Egypt Air Flight to Cairo Goes Missing With 66 Passengers On Board
The airbus was making a routine trip from Paris to Cairo when it disappeared.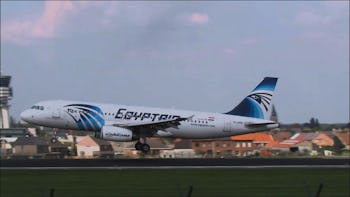 EgyptAir
Early Thursday morning, EgyptAir flight MS804 disappeared from its path during a trip from Paris to Cairo, officials reported. The flight left Paris about 15 minutes late, and by 2:45 a.m. local time, it had vanished from the map. The airbus was flying at about 37,000 feet when it disappeared ten miles into Egyptian air space.
The plane left carrying 56 passengers and 10 EgyptAir employees. Two hours after its disappearance at 4:26 a.m., a distress call came in from flight 804, according to a statement from the airline. EgyptAir's Twitter has been providing up-to-the-minute information, including resources for families of those missing.
French President Francois Hollande's office issued a statement through CNN's liveblog saying that he is working closely with Egyptian President Abdel Fattah el-Sisi to recover the missing aircraft and its passengers. "They agreed to cooperate closely to establish as soon as possible the circumstances of the disappearance," read the statement, as reported by CNN. "[Hollande] shares the anguish of the families affected by this tragedy."
The missing airbus is an A320, one of the most commonly used airbus planes. EgyptAir officials confirmed to CNN that the airbus had undergone routine maintenance checks the night before it left, on May 18th. Clear and calm weather conditions awaited the flight, and the pilot alone had over 6,000 flight hours under his belt, according to EgyptAir.
Back in March, an EgyptAir plane was hijacked and forced to land at Larnaca airport by an Egyptian citizen who had apparently been driven by the need to see a woman he knew. While some have speculated on whether the disappearance is related, it is highly unlikely. French Prime Minister Manuel Valls spoke with the French media on Thursday morning, saying that "no theory can be ruled out." CNN said that the families of those missing have been told to gather at Charles De Gaulle airport, where psychiatric help will be available to them.
For now, EgyptAir says it will continue to update its Twitter (in both English and Egyptian) with the latest developments.