After 'Batman v Superman' Disaster, Zach Snyder's Reign of Terror Looks Doomed
The Darkest Knight may yet have a glimmer of hope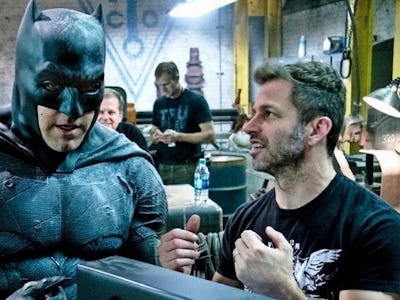 Warner Bros.
Here is a list of people who have, in the last two months, been given more power and control in the planning and production of future DC Comics movie adaptations: Ben Affleck, Jon Berg, and Geoff Johns. All three of them are now executive producers charged with rescuing and stabilizing the company's fledgling, would-be empire of superhero films, which has begun to crumble from bloated ambition and tone-deafness before ever enjoying any reign of success.
You will notice that Zach Snyder, the man who is most responsible for the poorly received first two movies in the franchise, Man of Steel and Batman v Superman, is not among the men listed above — and for a guy who makes big, exceedingly long movies, it's the omission that is most telling.
Snyder's take on the most iconic superheroes of the 20th century, it seems, has been thoroughly rejected by audiences worldwide; BvS earned awful reviews from both critics and fans. While Warner Bros. was in too deep to stop him from directing the next DC film — an even bigger superhero team-up, Justice League — it does not appear that his tenure as the creative center of the franchise will last much longer.
This was more or less confirmed by The Hollywood Reporter in its story about the DC shakeup on Tuesday night. In a brief but revealing aside, the publication noted, "The door was opened for director Zack Snyder to be involved in shaping the look and content of the entire DC line, which is scheduled through 2020. But critics and fans ripped into the first pic and especially Snyder for perceived missteps, including its heroes' unheroic behavior and the dark tone."
The good bet is that Snyder, once he finishes the Justice League movies (they're adhering to proper corporate money-grabbing etiquette and splitting a single bloated story in two), will move on from DC. He'll have made four movies for the Warners-owned company, which is nothing to sneeze at (in part because those movies dulled the senses).
Even before Snyder leaves, DC is making some other big changes. It begins with the formation of DC Films, which is a sort of pivot and concession to proven Hollywood models. Warners' always intended DC to be a "filmmaker-driven" counterpart to Marvel Studios, which prizes its continuity, tone, and aesthetic over individual authorship. If there's any one auteur of the Marvel Cinematic Universe, it's producer Kevin Feige, who envisioned the entire thing back in the mid-2000s and has shepherded an increasingly complex series of movies in a near-flawless, record-setting manner.
DC, despite its previous inclinations, needs a Feige, and that's where Johns comes in.
While Feige began his career working in film, Johns can one-up him on the geek cred front: He's been one of DC's most successful and creatively engaging comic book writers of the last few decades, writing cross-over events as well as individual arcs and books for Green Lantern, The Flash, Batman, and many other heroes. He's also been a big part of the success of DC's TV universe, which is a neon dreamland compared to Snyder's bleak, deeply depressing movies.
Few at DC have the institutional knowledge, or deep understanding of what fans like to read and see, that Johns possesses. Part of Snyder's struggle has been his inability to create versions of iconic superheroes that the public can recognize and reconcile with their childhood memories. Johns has been involved for two decades in shaping stories and establishing new normals for timeless characters, and perhaps he'll be able to use that experience to salvage the cinematic universe DC hopes to build. Or at least make it a bit less of an endless tsunami of bleakness and despair.