5 Politicians Who Have Used Hookup Apps to Campaign
Netflix and stimulus bill?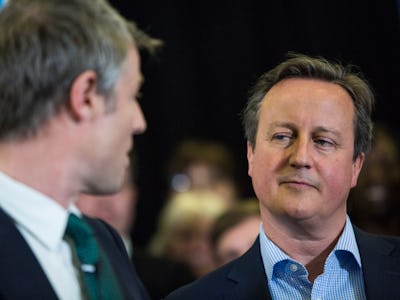 Getty Images
Since President Barack Obama's groundbreaking 2008 campaign, the world's grown used to politicians on social media. That doesn't mean it's all been done before, though. Some thirsty candidates are using hookup apps like Tinder to get those extra votes. Not even Tinder is safe from a Thursday afternoon debate about national debt levels, or whether parking permits should apply on weekends. Here are five politicians hoping to match with you.
David Cameron (Conservative)
The UK's prime minister revealed Tuesday that he has hooked up with Tinder to get young people to vote, according to CNBC. The country is voting on June 23 whether to remain a member of the European Union or leave, with Cameron campaigning for remain. Whether Tinder users share Cameron's commitment, or whether they'd prefer to keep it casual, remains to be soon.
Greggor Ilagan (Democratic)
Greggor Ilagan is running for the Hawaii State Senate, with the Democratic primary scheduled for August 13. According to Honolulu Civil Beat, his attempt to try something different in his campaign completely backfired as voters regularly tried to hook up with him.
Ilagan would receive advances from potential voters, to which he would reply: "Well, we can have a meeting and we can talk about government and maybe you can help out on the campaign."
Eventually, Ilagan gave up on Tinder, switching back to Facebook, Twitter, and Instagram. "Now I know why people don't campaign on it," he said.
Bernie Sanders (Democratic)
The Vermont senator hasn't actually used Tinder (as far as we know), but his supporters have been out in full force on the service. Robyn Gedrich and Haley Lent made headlines after their efforts to get people to "feel the Bern" found themselves barred from Tinder. Eventually, the bans were lifted, with Tinder telling NBC that while spamming is not allowed, "feel free to spread the Bern."
Adam Morley (Democratic)
Morley is running for the 24th district in Florida's House of Representatives. He is also married with a kid. According to the International Business Times, his Tinder bio said "I'm not here for hookups. I'm here to make things happens."
Morley's is one of the more successful ventures into Tinder land. He told IBTimes that he had spoken to "hundreds" of voters, and even recruited some of them to volunteer for his campaign.
Huey Rey Fischer (Democratic)
Fischer describes himself as "the queer, Latino son of a formerly-undocumented mom from Mexico and a Jewish, liberal dad from New York." He ran for the 43rd district of the Texas House of Representatives, getting in touch with local voters through both Tinder and Grindr.
"We've definitely had people say, 'You've got my vote, and by the way, I'd love to get coffee with you sometime,'" Fischer told Slate. "We've had to shy away from those offers and opportunities."
Unfortunately, his app campaign failed to give him the edge, as Fischer came in third on the March 1 primary with 14.08 percent of the vote.