Top 5 Moments From 'Mariah's World' Trailer
Mariah Carey's right, we're "living for this footage."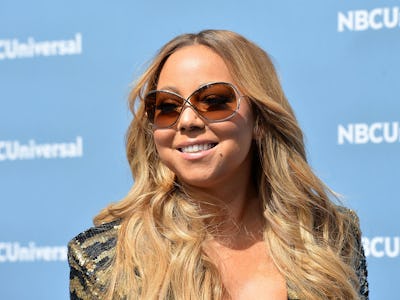 Slaven Vlasic/Getty Images
Mariah Carey wouldn't be Mariah Carey without her diva moments. She's a diva in front and behind the camera, and it's admirable. She's never anyone but who she really is. We'll soon get a ticket to "Mariah's World" through the E! docu-series, in which cameras follow Maria Carey on her European Sweet Sweet Fantasy tour and her upcoming wedding to billionaire James Packer.
This week, E! premiered the official trailer to the eight-part series, "coming soon," which features Mariah Carey being a diva — even when she's a "misunderstood legend." Here are the best moments from the trailer.
1."Hi, I'm Mariah Carey. Hi, I'm Mariah Carey. Hey, it's Mariah Carey."
The trailer kicks off with Mariah Carey reciting three versions of an introduction tag. MC doesn't have time for you to ask for another tag or drop, so she goes ahead and dishes three at one time. Keep it moving, thanks.
2. "I am not Cinderella. My life has not been a fairytale."
Her life may not have been a fairytale, but pairing up MC's voiceover saying so with footage of fabulous getaways and her pouring champagne over a cake to cease burning candles is genius.
3. "My life would be much easier if all I did was come in and sang the songs and leave."
MC isn't known for her dancing, and it seems like she wants it that way. She walks into rehearsals with sass and determination, but she really just wants to sing and get it over with. I mean, as she should be able to do.
4. "The thing about Mariah…she's very misunderstood."
Perfect voiceover from a commentator as Mariah looks at herself in the mirror, making sure her pose is on point.
5. I have a rule which states I will not be seen in fluorescent lighting without sunglasses."
There's nothing better than knowing what's on an artist's rider. Wait, there is: Mariah Carey's rules, like always wearing sunglasses indoors because of fluorescent lighting.