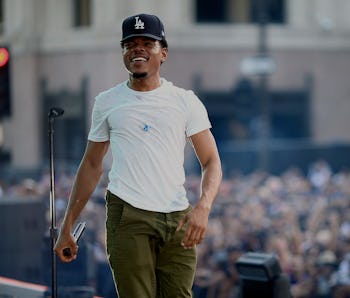 Entertainment
How Chance the Rapper Beat Kanye West At Collaborative Rap on 'Coloring Book'
With his new mixtape, Chance built something distinctly new, following the model of the 'old Kanye.'
Christopher Polk/Getty Images for Anheuser-Busch
Of any Chance the Rapper project, the Chicago rapper's new mixtape (which might as well be an album) Coloring Book finds the rapper sounding, at turns, like other rappers. Sometimes you hear him moving through flows you've heard from others before, throwing the styles of the people he's brought on the track with him back at them. It's the trap-rappers in particular: Young Thug on "Mixtape" and Future on Smoke Break" stick out. Sometimes, it makes for not the most convincing Chance-the-Rapper rapping in the world. He's best when he's on the verge of exploding, in bursts of yelps and knotty wordplay that could be emanating from no one else but him.
But these moments illustrate something important and great about Chance: his ability to make his features crucial building blocks in a song, rather than an all-dominant, carroted-in diversions. The product Chance is pushing these days is huge-sounding, collaborative, globalized rap, but with a basis in Chicago references and beat styles. Mostly, the musical landscape comes courtesy of collaborators he's been working with since he was cutting his teeth on open mics and features: producer and keyboardist Peter Cottontale, beat architect/general overseer Nate Fox, composer/trumpeter Nico Segal, and the rest of the Social Experiment band.
If Acid Rap was a thesis on the distinctive sound this looser team could shape together, and Surf expanded and firmed it up, then Coloring Book finds Chance and co. trying to blend stylistic cohesion with as many compelling left turns as possible.
The origin of Chance's methodology — and even his direct basis in bright, symphonic, church choir-and-soul-studded music — is 100 percent Kanye West's The College Dropout and the fallout from it across his career up until the present. It's hard to remember now, but Kanye began as a upstart with a unique, populist musical vision: He was a clear sound almost as much as a captivating personality. These days, the personality and all sorts of other extratextual reference points infringe on Kanye music. This year's The Life of Pablo was messy not only because, like Yeezus before it, it really did sound thrown-together at places, but because he was trying on even more styles on one record than ever before.
But it is Chance these days — and now Kanye — who is truly synthesizing sounds to create something new. Even the most rote style experiments — "Mixtape," in particular — on Coloring Book have a rich, primary-color melodicism which is Chance's sensibility, almost verbatim. The usually-murky Pablo becomes, musically, a variety show, though Kanye's voice — stentorian, stark — intercedes always to remind us who hand-picked everyone we're hearing, for whatever obscure reasons. Travi$ Scott-y hard-nosed but glossy trappish beats infringe frequently on Pablo, before careening back to gestures from past Kanye guises — sample rappity-rap diversions, troubled, furrowed-brow Autotune screeds.
On the Chance-featuring "Ultralight Beam" — a commonly cited favorite from Pablo, which was actually very last-minute — Chance's verse steals the show, and the style is an only modestly Kanye-ified version of the gospel rap style Chance is codifying these days. It's an unambiguous handing-over of reins, something Kanye has just begun doing — and which Chance does, still, only under strict control.
Kanye can bring anyone he wants on-board his album, and Chance — eminently likeable and musically ambidexterous — has proven himself able to do the same thing. Coloring Book boasts features from the two biggest Atlanta stars of the moment — Young Thug and Future — Thug's rival and icon Lil Wayne, Justin Bieber, and gospel's biggest crossover star of the past 20 years, Kirk Franklin. It takes a special mind to do that. But the musical backdrop, inevitably, is defined by long-time collaborators, who continue to shape the Chance sound. The sound of Donnie Trumpet's effects-laden trumpet is becoming an expected signature; also, the sophisticated, gospel-jazz-flavored chords of Peter Cottontale, and the periodic hyperactive drum machines that intercede in songs like "Angels" and the Kanye-featured "All We Got."
By reprising and updating the methodology of Kanye the younger, Chance has created something new — tightly unified but various, a sound that is even bigger than him. Its very singular, and one doubts if it could even be as influential as Kanye's use of soul samples (eventually, super-expensive ones) ended up being. Chance's records sound like the past and the future at the same time, whereas Kanye has always seemed, in one way or another, to be looking toward the future.
Nonetheless, with Coloring Book, Chance has struck a balance between collaborative experimentation and a signature sound that Kanye is no longer straddling. Pablo may encapsulate the chaotic, too-many-tabs-open spirit of 2016. But Chance's music offers a more hopeful, constructive vision — something more singular, eternal, and refreshing.