Facebook's 360-Degree Film from Grand Central Station is a Sentimental Wonder
Featuring fighting couples, tearful reunions, and family vacations set to "These Days."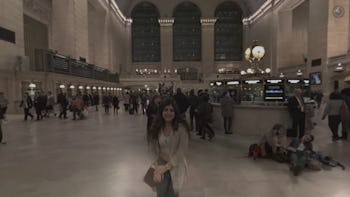 New York's Grand Central Station is one of the best people-watching spots in the world. While Facebook could easily have set up a 360 camera in the station and caught a multitude of small human interactions as New Yorkers and travelers went about their daily lives, its latest film, Here and Now, was a massive, five-week effort with over 500 actors, who create an all-encompassing scene of vignettes.
Here and Now is short — just over three and a half minutes long — but it scratches the surface of what 360-degree, 3D narrative films could look like. Multiple storylines — a couple in a fight, a group of friends, a family sending their daughter to camp — intertwine around the viewer, with subtle visual and audio cues that lead the viewer through them. The fun part is that you don't have to follow any of them. You can ignore the family sending off their daughter and watch as the woman in the red dress gets angrier and angrier, waiting for her late boyfriend, which makes his appearance, three quarters of the way through, all the more interesting.
"It's a preview of what a full-length virtual reality movie will feel like," Facebook founder Mark Zuckerberg commented about the video. "Instead of watching the action, you'll be right in the middle of it."
360 video is still a very new format, and it's fun to watch different developers and filmmakers experiment with it. We've gotten the Game of Thrones title sequence in 360 degrees, David Attenborough hanging out with dinosaur ghosts, and plenty of Star Wars universe immersion, but Here and Now is an interesting foray into how the medium can explore more real-world, human drama (even if the weepy "These Days" by Nico is a tad sentimental).
Oh, and it it works on desktop, mobile, and VR headsets, so plug in your preferred device and check it out below.