'Game of Thrones' 360 Facebook Video Reveals Season 6 Easter Eggs
The Titan of Braavos has testicles, but there's more to it than that.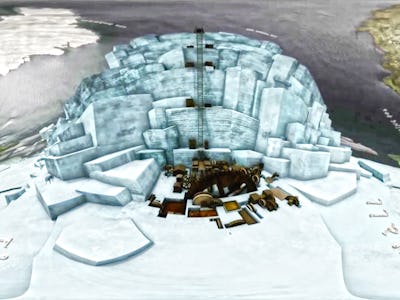 Game of Thrones
As you steep yourself in Game of Thrones content ahead of the April 24 season six premiere, here's a new experience to add: watching the show's beloved introduction in 360º video. And you can indulge yourself further by scavenging the many hidden easter eggs.
The video is "now the most watched 360 video on Facebook in a 24 hour period," Mark Zuckerberg says. It's been watched 6.3 million times. Over 176,000 people have liked it; there are almost 45,000 comments and 120,000 shares.
At Facebook F8, Oculus Director of Video Eugene Wei credited himself for the idea: one day, he mused about how cool it would be to experience the Game of Thrones intro in 360º video. As his F8 presentation approached, he was asked to premiere it.
The official Game of Thrones Facebook page got the jump, though, and released it about two hours ahead of Wei's "surprise." But that same Facebook post did not announce what Wei did: hidden within this new video are seven easter eggs.
Compared with season five's intro and excluding the remaining, hitherto undiscovered easter eggs, this intro is, by and large, the same. The notable difference? It's a lot longer — by about 40 seconds — presumably so you have time to swivel your phone (or head, if you're a lucky Oculus Rift or Gear VR owner) around and admire the landscapes.
What could those seven easter eggs be? There are a few figurines scattered Beyond the Wall, for instance. That dire wolf near Castle Black? The Titan of Braavos has testicles; that could be two, quite literal, eggs. What else is there? Keep your head on a swivel — this is 360º video, after all:
Check out what we've forecasted for season six.