Fox Upfronts Promise Nostalgia and Time Travel
Wentworth Miller and Dominic Purcell reunite for a Prison Break continuation among Fox's offerings of reboots and sequels.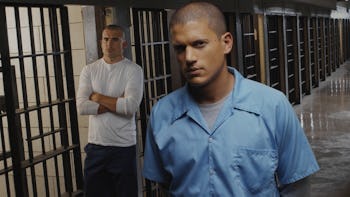 FOX
The Upfronts are upon us, and they have brought in several new shows to try and mend the broken hearts left behind by a merciless wave of recent cancellations. Designed to win over the press and major advertising partners, the selected trailers that made it past their pilots have been pouring in from networks like ABC, where Agent Carter star Hayley Atwell will now top the cast list of a crime drama titled "Conviction". Amid a storm over CBS after their refusal to move a proposed Nancy Drew pilot forward for being "too female", it might have been easy to miss today's announcements from both Fox and NBC.
Fox's coming season relies heavily on the reboot craze that seems to be dominating screens big and small of late. The lineup isn't all reboots and sequels, but its hard not to notice something of a recurring theme. Regardless, the line-up fills out nicely with other offerings from the network, and several shows stand out as must-see series for the upcoming season.
Time Travel is a pretty huge theme this season — the success of The CW's Legends of Tomorrow may be part of the reason for this, but while most shows will focus on drama and adventure, Fox is offering a buddy comedy for their take on the sci-fi trope. Making History takes place in Colonial America, which is pretty hot right now thanks to the success of Lin-Manuel Miranda's musical Hamilton. Starring Adam Pally, Leighton Meester and Yassir Lester, the comedy focuses on the dangers of screwing up the past by attempting to date in the wrong era.
Speaking of Legends of Tomorrow, those mourning the loss of Wentworth Miller's Leonard Snart can rest easy knowing that he and Dominic Purcell will share the screen once again in the continuation of Prison Break, where Miller's previously thought-to-be-dead Michael Scofield is found alive by his brother, played by Purcell. Several cast members are set to return for the series continuation, including Sarah Wayne Callies as Sara, Michael's wife.
Directed by Rupert Wyatt, The Exorcist will live again as a television series starring Alfonso Herrera (Sense8), Ben Daniels (Flesh) and Broadway legend Geena Davis (Thelma & Louise). Four decades after the original film horrified audiences across the globe, this series aims to tell a new story involving two priests whose paths converge under dire circumstances.
24: Legacy stars Straight Outta Compton's Corey Hawkins, and if that isn't an indicator of quality, the trailer might be. The series focuses on a former military hero who brought down one of the world's most dangerous terrorists, placing him in a race against time to stop a devastating attack to avenge the fallen terror leader. Original 24 star Keifer Sutherland is on board as one of the show's executive producers.
Pitch is easily one of the most heart-wrenching trailers of the batch that tells the "soon to be true" story of fictional pitcher Ginny Baker, the first woman to join a major league baseball team. While it's hard not to ignore the irony of his fictional tale being promoted by the Major League Baseball Association, the series looks like a promising, uplifting drama that could make for an impactful rule over Fox's 2017 line-up.
Fox's Fall season also includes a TV revival of The Rocky Horror Picture Show led by Orange is the New Black's Laverne Cox, and Son of Zorn, a raunchy comedy starring Jason Sudeikis as one of the show's two animated characters.