5 New ABC Shows To Fill The Holes Left Behind By Agent Carter, Castle, and Galavant
Among ABC's new shows, Hayley Atwell will lead "Conviction" after the cancellation of "Agent Carter".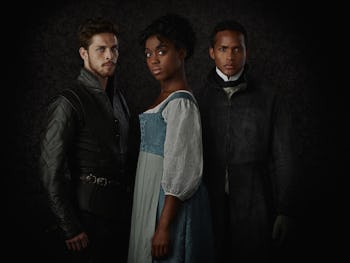 ABC
Cancellation season is ending on a lighter note. Though fan-favorites like Agent Carter and Castle are departing ABC, new shows are lining up for what looks like a promising season of Fall TV. While the block contains substantially less comic-book heroism than previous seasons, a few new series may fill the gap left behind by the shows which were not renewed.
ABC shared eight new trailers today through Variety, giving fans a sneak peek at what the network plans to show to advertisers at their Upfront presentation next week. In space of superhuman saviors is a mixture of family comedy, crime dramas, and a fantastically diverse new "What If?" take on Shakespeare. Those feeling the loss of cancellation season might find a gem or two.
Hayley Atwell may be exiting her role as Agent Peggy Carter, but ABC isn't looking to let the rising star go after her commanding performance as Marvel's most iconic spy. Atwell will lead Conviction as former First Daughter Hayes Morrison, an up-and-coming lawyer with a dark secret. When her nemesis, the District Attorney (Eddie Cahill) finds out about Morrison's past with cocaine possession, he forces Morrison to work with his team at the new Conviction Integrity Unit. Atwell's character helps bust crimes so she can protect her secret, and her classic wit is well featured in this clip.
Never without a crime drama, network ABC is offering Notorious, a semi-fictional take on the famed criminal defense attorney Mark Geragos and cable news producer Wendy Walker. The series will rely heavily on the chemistry between actress Piper Perabo (as Julia George) and Daniel Sunjata (as Jake Gregorian), and promises to be a sexy, mystery-solving romp that fans of Castle may want to try.
Shondaland continues delivering the magic by going where few shows do these days. Expanding William Shakespeare's classic Romeo and Juliet, fantasy drama Still Star-Crossed tells the story of what happened after history's favorite over dramatic teenagers took their lives in the name of love. The fighting between the houses does not stop — in fact, everything gets so much worse.
Time After Time serves as a perfect, light-hearted compliment to Shondaland's Shakespearean tale, focusing on time travel, love, and even more book lore. Freddie Stroma stars as legendary science fiction writer H.G. Wells, who travels to New York City on the hunt for Jack the Ripper (Josh Bowman) and finds a surprising new love along the way. While neither show will featured Galavant's incredible dance numbers or over-the-top comedy, those of the nerdy persuasion might be satisfied anyway.
While Piggy and Kermit are back together (and several of us continue to have mixed opinions of this relationship), their on-screen time has ended once again with the cancellation of The Muppets. But don't let that dampen your rainbow connection: an adorable and strange new comedy brings back the joy of puppets with a comedic twist for the overworked 20-something. Jenna Elfman stars in Imaginary Mary, the story of a woman adapting to the lifestyle of Possible Stepmom under the guidance of her childhood imaginary friend.
Make sure to glance at all of ABC's new offerings, coming later this year.