Who Will Run the Chinese SpaceX? Space Race Capitalism Has Arrived in Beijing
Don't be surprised if the world's next big private space company rises in China.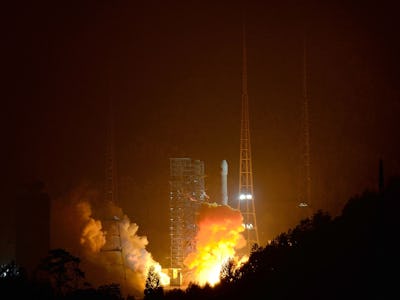 ChinaFotoPress / Stringer
China's state-run spaceflight program is riddled with systemic issues that hamper growth. However, its private spaceflight industry already shows promise despite being in its infancy. Though the world's most populous country has so far failed to create anything akin to SpaceX or Blue Origin, the effort is now undeniably underway.
China boasts the world's biggest GDP according to the International Monetary Fund, so Beijing-based companies — tied to the politburo as they may be — deserve to be taken seriously. In a sense, communism makes them more serious competitors in a capitalist market because of the support they receive from universities, hedge funds, and the government. Though little tangible progress has been made, it is reasonable to expect private companies will be involved in Chinese launch operations and spacecraft management in the near future.
The same way NASA doled out contracts to many different companies to buoy the industry, China will likely spread the love (read: money) as it continues to invest in space travel. With another Chinese space lab set to go into orbit this year, it would make sense for the country to get its private companies more directly involved in the spacecraft's maintenance
Here are the three Chinese spaceflight companies to watch:
Landspace Technology
It's a lousy name, sure, but don't write off this company just yet. Founded by Tsinghua University alums, Landspace has one target goal: building and launching a space launch vehicle that can be used for both human-run missions and robotic missions alike. The company would like to be involved not just within China, but also help lead micro satellite launches in countries in Europe and Southeast Asia.
Shenzhen Yu Long Aerospace Science and Technology
This company has already launched plenty of sounding rockets (an important part of atmospheric and space science research). One of those tests already reached an altitude of about 22 miles which is beyond the troposphere, but still short of zero-gravity orbit. Nevertheless, the company has expressed hopes to send a formal spaceflight rocket up by 2020, followed by a crewed launch five years later.
One Space
This company was founded with public support from China's National Defense Science and Industry Bureau just last year. Unlike Shenzhen Yu, One Space has yet to accomplish a successful test launch, but it's probably the most promising company on this list. Its 59-ton space launch rocket has a target 2018 date, and is designed to carry over a 1,500 pounds into orbit. Like Landspace, the company wants to get involved in microsatellite launches — and do it at a cost-effective rate. The ultimate goal is to build a vehicle that can send humans into space.