AMC Releases Stylish Trailer for 'Preacher'
Check out the shiny new trailer focusing on the outlaws and heroes in AMC's 'Preacher'.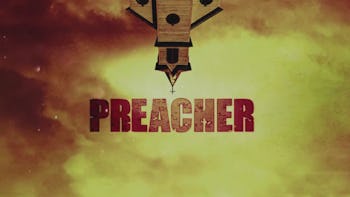 AMC
Judgement is approaching, and by that, we mean AMC's premiere for its new show, Preacher. While we've seen teasers and images for the upcoming supernatural thriller before, AMC released a completely original short trailer showcasing the show's colorful cast today.
Set to Wanda Jackson's "Both Sides Of The Line", AMC runs down their expanded cast in a clever little vignette, foreshadowing how each of these characters will come to be involved with our main trio. The trailer smoothly glides over characters like Sheriff Hugo Root, Arseface in Root's police car, as well as two shady looking cowboys, DeBlanc and Fiore, who are secretly Adelphi angels.
The best bits involve our heroes, of course. Tulip is seen vandalizing Custer's church van, spray painting the phrase "Someone's Gotta Pay" on the windows. Custer is inside a bar kicking some ass in the name of God. My favorite bit is Cassidy who uses his vampiric weakness to the sun in an incredibly punk way. All-in-all this is a fantastic little trailer that, while short on plot synopsis, gives the best look yet at the sort of insane characters audiences will get to see in their upcoming television adaptation of Preacher.