Obama Goes to War On FSociety in the Chaotic Trailer for 'Mr. Robot' Season 2
Rami Malek's mind-hacking fever dream isn't slowing down anytime soon.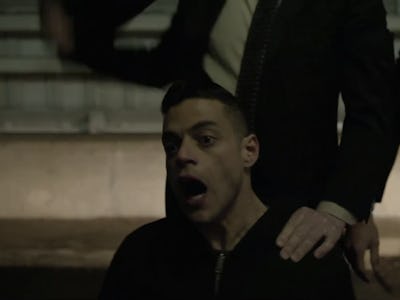 YouTube/ USA
Mr. Robot points a gun at Eliott's head. Tyrell's wife lies handcuffed to the bed, as a hand lashes across her face. "Control is an illusion," he says. Eliott sprawls across the ground, but is interrupted by masked figures, who strap him to a chair. Darlene sits crumpled on a bathroom floor. The world is not at all as we know it.
President Obama — the real sitting president — addresses a fictional version of the Nation, after FSociety's devastating hack in the Season 1 finale of Mr. Robot, which set us up for a descent further down Sam Esmail's rabbit hole of digital depravity. USA's surprise breakout hit has confused, thrilled, and disturbed audiences, and we have little idea where it's headed; but based on the new trailer for Season 2, it's not slowing down.
Eliott, played with equal parts tortured fervor and grace by Rami Malek, is still struggling with his Shakespearian-ghost of a father (Christian Slater), and his friends are diving into dark corners of their own souls – and society as a whole joins them. Angela continues her sinister dance with EvilCorp's Phillip Price (Michael Christopher), and the fallout from Season 1 continues to spread over Mr. Robot's realist-dystopian vision of the future.
Check out the full trailer below: