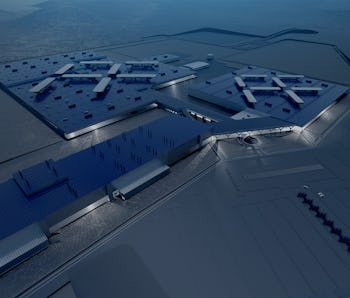 Innovation
Unlike Tesla, Las Vegas-Bound Faraday Future Hopes to Be a Tourist Destination
Nevada's hosting the 21st century's Great Transportation Gold Rush.
Faraday Future announced its plans to move to Las Vegas months ago, but the reasoning behind the move is only now becoming clear. Like Tesla, which is buildings its Gigafactory in Storey County, the somewhat secretive electric vehicle manufacturer will take advantage of incentives and set up shop in the Silver State. But that may be where the companies' intentions diverge. While the Gigafactory may welcome some visitors eager to see one of the largest buildings on Earth, the Faraday Future factory will be built to facilitate the flow of tourists.
Over the weekend, Faraday Future's Vice President of Global Manufacturing Dag Reckhorn told The Verge that part of the appeal of Las Vegas was access to an international pool of tourists. "We were intrigued by the 41 million visitors that come here every year," the former Tesla exec explained. "If we can attract just a small number of those visitors to our plant to look at our product, that's a great marketing tool. We'll have tours through the plant."
The cars that Faraday Future makes, along with those cars' internal parts, are pretty eye-catching and a factory would represent a singular attraction for those visiting Sin City and a win for a town that has traditionally failed to move money off the strip and into the community.
Still, Faraday Future's move is a gamble. They've generated considerably less hype than Tesla has, despite making amazing looking cars. There's also this: Hyperloop One is already turning heads in North Las Vegas. Though that company isn't owned or operated by Elon Musk, it is strongly affiliated. The two companies could team up to attract a specific type of traveler, but that might not make sense given their current corporate allies.
The Gigafactory, meanwhile, is being built about seven hours away. It is a more practical facility, but that might only serve to underline Faraday Future's point, which at this point seems to be that its cars will be way cooler looking.