6 Predictions for Google's I/O Developer Conference
The company will lay out its plans for the future.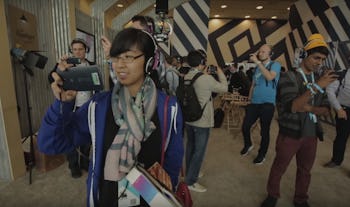 Youtube
Starting Wednesday, Google will again put on its annual Google I/O developer conference in San Francisco, which gives everyone a sneak-peak at what's next for the company's software.
Rumors, reports, and the official schedule reveal a lot about what to expect, but there's still much that's unknown. This could truly be one of the more surprising Google events in recent memory. Here are the six things to watch for during the week.
6. Better, More Affordable VR
Facebook's Oculus and HTC's Vive headsets have introduced consumers to the first marketable high performance headsets, but they remain heavy, hard to set up, and expensive. Google doesn't seem too interested in that model for VR given its success in selling 5 million Google Cardboard units last year.
Expect Google to expand on Cardboard's functionality while keeping it accessible. The Financial Times reported in February that Google could work on a Samsung Gear VR headset that would be more immersive than Cardboard.
That strategy may involve increased partnership with Google's Project Tango team, which has been working to give smart devices a sense of spacial sight so that Android phones and tablets know where they are in the room. Bloomberg last week reported the company is planning to map the interior world with Google VR and Tango is a large part of those efforts.
The Google I/O schedule for the week includes four events, an afterparty, and a gaming panel dedicated just to Project Tango, so there will certainly be a big announcement. The question is how will it change Google's position in the VR race?
5. New Software
Some Android phone users are only just now receiving Google's Marshmallow software update, but the yet unnamed Android N is just around the corner. To solve the slow adoption rate, Google released a developer's edition of the software early this year, but there are bound to be some more features.
Users can be assured new multi window support (a feature that won't be enough to save Google's lackluster tablets), improved battery life, a dynamic night mode, slightly altered settings menus, and new human-like emojis.
There's a possibility Google will even announce an Apple-like 3D touch feature, but Recode reports those efforts have been delayed. Whether it's announced this week or later down the line it does seem support is coming for this feature.
4. Android Pay
An event titled "Android Pay Everywhere: New Developments" kicks off Wednesday and there could be some interesting developments that expand the availability of stores supporting the platform. A UK Pret coffee shop mistakenly rolled out new card readers with tags proclaiming they now accept Android Pay, which means the service is most certainly expanding internationally.
It could be great if Google expanded its service to look more like Samsung Pay, which is more widely accepted across stores. But, many Android users would probably just be happy to have increased store support.
3. Where is Android Wear and Auto?
We know very little about the future plans for these two major products from Google in the automotive and wearable market, but there's a potential for surprises. Android auto has been out for a year now and Google has agreed to a deal with Fiat Chrysler to put self-driving car technology into 100 Pacifica minivans. That doesn't mean a new announcement is imminent but it warrants an update at least.
Android Wear hasn't exactly taken off and it would be great to see some new updates in this field to get closer to our ideal smartwatch. But the five Thursday events announced on Google's schedule seem pretty uninspiring at the moment.
2. Android A.I.
Google doesn't have a Jarvis-inspired assistant like Siri, Alexa, or Cortana for its A.I. system Google Now, but it's one of the better systems on the market, thanks to the immense amount of data Google utilizes.
Now, it looks like Google is planning to port that system from the phone to a home device akin to Amazon's popular Echo tower and speaker. The Information reports this will be the first product from Nest since the Internet of Things company was bought by Google.
Google is also expected to debut its answer to Microsoft and Facebook's chatbot service. The Google Research Labs last week opened its smart learning language platform up to developers through open source, and The Wall Street Journal reported last year Google's plans to develop a WhatsApp style messenger system. Just before the start of the conference, Google announced Spaces, an app for discussing any topic among a community of dedicated followers.
Thanks in part to Google's DeepMind Alpha Go victory, A.I. is on the mind for many developers, and Google intends to be a big player in that market.
1. Android TV
Google has struggled to convince consumers that Android TV is the living room entertainment box for all their TV binging needs, and the company will likely make a case for it again at Google I/O. There's an event on Google's schedule titled "Bringing Live Content to Android TV" and that could mean a couple of things.
Either Google has done what Apple and several other streaming box companies have attempted and failed to do: strike deals with networks and cable subscribers to bring a better classic TV experience to streaming content. Or, the far more likely scenario, Google is going to offer some exclusive live events much like Apple Music has done with Drake concerts.