Tesla Promises "Freedom" and "Much Less Pollution" in Chinese Model S Commercial
"It really is the perfect car," the video's English subtitle reads.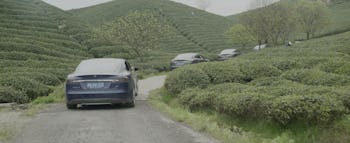 YouTube / Tesla
"If everyone were to drive electric cars, the sky would be blue again."
That heavy-handed line closes out Tesla's new promo, titled "A Zero Emissions Road Trip — East China." The video, posted to its YouTube page today, is the company's latest in several recent public gestures showing that Elon Musk's electric automobile outfit is trying its damnedest to break into the Chinese market.
Twenty Chinese Model S owners gave testimonials for the ad, with their voices laid behind footage of their collective e-car convoy rolling through the mountainous highways and cityscaped streets of the Zhejiang Province.
"It really is the perfect car," the video's English subtitle reads. "It brings you this feeling of freedom."
With themes of "freedom" and lines like "If everyone was driving a Tesla there would be much less pollution," the veritable commercial borders on shamelessness in its play on the desires of the people of China, a country known for its political oppression and smoggy air.
This new video feature isn't even the first time this month that Tesla has seemingly aimed a piece of public relations content at buyers in the Far East country.
At the beginning of May, the Tesla team put out results from a test it had conducted with the Model X's Bioweapons Defense Mode, a HEPA filter feature that promises to purify air flowing into the cabin of the car. In the release about its feature's effectiveness, the Tesla team included a quote from the World Health Organization which calls air pollution "the world's largest single environmental health risk."
The World Health Organization labels China "over target" on air pollution levels.
Of course, Tesla has also expressed its interest in the Chinese market in less underhanded ways. Last year, Musk told China's Xinhua News Agency very plainly that, "It is clear that we need to think of China in a very long-term way. We need to steadily boost the confidence of the Chinese consumers … China is attractive right now, and in long term."
America's Tesla is the most famous electric car brand in the world, so you wouldn't expect Musk's company to have too much trouble eventually making its way over to the Chinese market. But China does have a heavyweight company of its own, LeEco, looking to get into the EV game soon — and at a cheaper price point. So until a champion e-car is crowned in the country, we should expect more angled press releases and photo op road trips from Tesla's marketing team.