Did a Turner Prize-Nominated Artist Create a Tribute to the Gross Meme Goatse?
Viral Internet content may remain latent in our minds for longer than we think.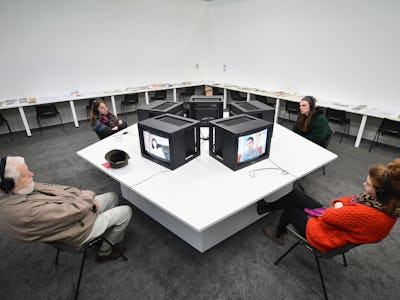 Getty Images/Jeff J. Mitchell
The 2016 shortlist for the annual Turner prize —a prestigious, visual-art award for British artists under 50 — was announced yesterday. The award, first established in 1984, remains one of the most respected accolades for Britsh artists, which is to say that Anthea Hamilton, Michael Dean, Helen Marten, and Josephine Pryde, who collectively represent the shortlist, have a lot to be proud of. Their work was singled out because it reflects "living in a world saturated in images under the ubiquitous influence of the internet." The winner's work will be displayed in the Tate Modern and, among those pieces may be an inadvertent tribute to the grossest of 2004 memes (the one devoted to a man showing his rear orifice in all it's glory): Goatse.
The 10-meters-tall piece in question, "Project for Door (After Gaetano Pesce)," is part of Anthea Hamilton's exhibition Lichen! Libido! Chastity!, and was inspired by Italian designer Geatano Pesce's doorway piece from 1972. The Tate celebrates Hamilton's work for bringing "a surrealist sensibility to popular culture and the mind-bending proliferation of stylized and sexualized imagery in the digital world." Fair enough, but Hamilton didn't think of it by herself. As with most gross things, the internet got there first.
Returning to the theme of being inundated with images from the Internet, the goatse interpretation of Hamilton's work is actually spot on. In 2004, the concept of a viral image was novel, around the same time that Ebaumsworld's videos were gaining traction. At that time, people were only beginning to grasp the absurdity of viral Internet sensations, entranced by the Internet's peculiar ability to unite audiences with disturbing material. Hamilton's nod to these famous innards may have been unwitting, but it further upholds the insidiousness of the Internet. For mental health purposes, we're not going to post a Goatse picture. And chances are, you don't need to be reminded.