Mirrow's Russian Tiny Urban Transport Is a Food Truck, an SUV, and a Smart Car
The Mirrow Provocator is a spacious, safe, and versatile city car that deserves our attention.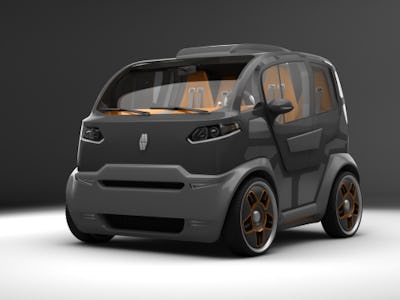 Mirrow Cars 
Cars are evolving in two directions. There are highway cars and urban cars. The latter category is shrinking. But how do you maximize interior space and simultaneously adhere to a compact body model? Russian car company Mirrow is offering a sleek and innovative answer with its new Provocator, a state of the art, small yet spacious city car that seats up to four people. By squeezing the most space out of a comparably small model, the Provocator can offer SUV practicality in a tiny shell.
Measuring just 6.7 feet tall 8.8 feet long, the Provocator is exactly the same length as the Smart ForTwo, and takes up nearly half the space on the road and in parking lots as conventional vehicles. The comfortable and spacious interior layout borrows from aircraft space planning with seats on either side of a dividing center aisle and the main door located at the rear. There are other small openings on the side of the vehicle, but those are designed for emergency purposes. The basic version of the car will feature seat belts with three to four attachment points, ensuring security.
In order to maximum safety, Mirrow's engineers did away with traditional metals that can be dangerous to passengers in the case of a car accident. The Provocator is constructed from lightweight and inexpensive polymers provide strength and structure while also absorbing impact energy. The car's motor is situated in line with the center aisle, which makes it less likely to cause harm to passengers in the case of a crash.
The amount of interior space is truly astounding when you consider this vehicle's comparably tiny dimensions. The thing can even be ordered as a food truck. The high ceilings and spacious interior of the car provide enough room to install a small-scale professional kitchen in the back, and leaving the rear door open would be an invitation for customers. Most other food trucks are bulky, huge vehicles that take up too much space by the sidewalk, but the Provocator could accomplish the same culinary goals in half the space and with a futuristic sleekness that would surely attract customers.
The secure and spacious Provocator makes for a versatile vehicle that could potentially be converted into city taxis, in addition to family SUVs and compact food trucks. Consistent with its state of the art angle, Mirrow will also offer hybrid and electric versions of the Provocator for drivers who wish to do some good for the environment. Whether you're looking to open the food truck of your dreams or comfortably accommodate your family of four, the Mirrow Provocator may be your stylish, safe, and spacious answer.