11 Bands Who Might Be the Next Radiohead
Radiohead might be taking a victory lap. Who will fill the group's mammoth shoes? Here's some options.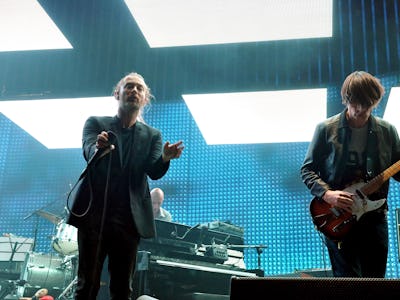 Getty Images
As nearly every critic — rightfully — creams their jeans over Radiohead's latest, A Moon Shaped Pool, there's also reasonable speculation that this might it for the beloved group. The quintet has been at it for over 30 years, made nine essential rock albums — yes, even Pablo Honey kicks ass — and have naturally splintered into focusing on various side projects. Even if Radiohead isn't retiring after its upcoming tour, there's the question of what band or solo act will be left to assume the mantle. Of course, it's absurd to make a case for direct lineage: Was Radiohead the next Beatles? Or the next Pavement or Stereolab? Probably not. But, the Oxford gents have become a legendary collective, especially among the 30-something set. Nobody else can really come close. So, who is up next? Which artists have exhibited that rare combination of near-flawlessness, experimentalism, and an indication of future staying power? Which act has the ability — to put it bluntly — to help to define a generation?
Kendrick Lamar
Boom, right off the bat I hit you with that genre-flouting business. If hip-hop is the most creative arena in music these days, then he might be its standard-bearer. Kanye West has already done well to put himself in the conversation for greatest rapper of all time, but Lamar has the potential to eclipse him — and this list is all about potential. Lamar has only released three full-length records and all of them are astonishing in depth. It's almost scary to think what the 28-year-old might have in store.
Vampire Weekend
These dudes are an unstoppable force. I, myself, thought the Ivy Leaguers were a one-trick pony when their debut came out and I've been proven wrong again and again. The band's 2013 album, Modern Vampires of the City, is an outright master class in lyricism. And it's only Vampire Weekend's third album. It'll be interesting to see how Rostam Batmanglij's departure will affect the group's trajectory. I'm guessing Ezra Koenig and the Chris's take it in stride.
Car Seat Headrest
Getting out early on this one! Seriously, though, Will Toledo's upcoming Teens of Denial is going to make some serious waves. The dude is a prolific genius and he's only 23. Hold onto your butts.
Bon Iver
Two stellar albums, one long hiatus: Who knows what could happen? Somebody let Justin Vernon borrow their cabin this winter.
Sufjan Stevens
I wouldn't have thought to put Stevens in this company but, then, last year he put out yet another stunning work, Carrie & Lowell. He's demonstrated the ability to do concept albums, electronic work, and anthems all while he's got the market cornered on spare, somber elegies.
The War on Drugs
Over the course of three albums, Adam Granduciel's band has mined rock & roll gold, calling upon influences like Dylan, Petty, Young, Springsteen, Seger, Browne, and the Grateful Dead. And, somehow, the group has made it sound all their own, wholly relevant, and modern. To boot, there might not be a better — and more hardworking — live act going.
Frank Ocean
Remember this guy? 2011's Nostalgia, Ultra had us all, "Oh, shit," while 2012's Channel Orange got us like, "Oh! Shit!" Word is he's been working on a follow-up for about three years now — which is a very Radiohead timeframe. (Nostalgia, Ultra even featured a brief Radiohead snippet). Let's all hope it's up to snuff.
Tame Impala
Kevin Parker & Co. have been putting out such fantastic music at a steady clip that it's high time to stop and evaluate. The three LPs are all masterful in their own way and Tame Impala's psychedelic electronica is sui generis in a way that would make Radiohead proud.
Grizzly Bear
Don't fake the funk on Grizzly Bear: They remain a heavyweight, anchored by two distinctive frontmen. Time to get pumped that they're almost back in the studio.
Future Islands
Future Islands may have exploded in 2014, but the Baltimore group had been making catchy, moody tunes for years before that. The band's live show — anchored by the inimitable Samuel T. Herring — is, of course, a sight to behold. Hopefully the studio material can keep up.
Real Estate
A personal favorite; everything these guys do is wonderful. Don't sleep on 'em.