This Simple iPhone Trick Changes Folder Icons to Circles Without Jailbreak
Rounded squares are so last week.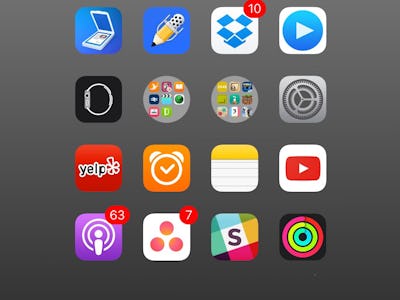 Inverse
A crafty YouTuber has discovered a way to turn your iPhone's folder icons from their standard "rounded square" design into a rather fetching circle shape. YouTuber videosdebarraquito uploaded the tutorial to their channel, where they host a range of other iPhone tips and tricks.
First off, make sure "reduce transparency" is switched off by visiting "Settings," then "General," then "Accessibility." Once you've checked that, the trick is to visit this website on your iPhone. Scroll down to the color gradients. Press and hold on any of them and save the image.
Then visit the "Photos" app. Choose the gradient, then touch the box with an arrow coming out. Select "Set as Wallpaper," then choose to either set as home screen background or set as both home screen and lock screen.
Therein lies the rub: the icons go back to their original shape if the home screen wallpaper is changed again. That might not be so bad if it doesn't really matter to you how your home screen looks, but if you're using tricks to change what the folder icons look like, chances are you probably care a little bit.
Normally, visual tweaks like this depend on going through a lengthy jailbreak process to enable apps from outside Apple's approved channels to run. Jailbreaking may be worth it depending on the user's needs, but the community needs to update its tools regularly when Apple releases a new software update. Jailbreaking also requires a certain level of trust, as the code has not been approved by Apple.
For a visual demonstration, you can see videosdebarraquito's original video below: