New York Needs a New Aquarium and Architects Are Scoping the Brooklyn Waterfront
The Arch Out Loud competition was all about helping get people not on the subway underwater.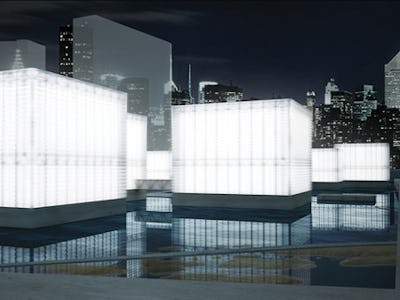 Vers La Mer
Architecture is a tool cities can use to articulate and chase their goals. That's what the Arch Out Loud competition is about. Well, that and — this year at least — proposing new ideas for an aquarium and revamped waterfront. This year, the call for designs for "an intertwined public aquarium and park" attracted a staggering 178 proposals from 40 countries. While only one was named the winner, each considered the potential of aquariums to become public space, something uncommon stateside.
A proposal from Milan dubbed the "Aquatrium" came in first place this year. With eight triple-height transparent biomes representing the great oceans, the project was designed to challenge the public to recognize the aquatic world. An iceberg in the center of the atrium would represent the North and South Poles. The aquarium itself would be submerged beneath a green roof.
Another proposal, called Vers La Mer, took second place by offering up an original solution to rising sea levels. "Towards the sea" in French, Vers La Mer seeks to establish harmony between life on land and life in the water by way of a floating garden and structures anchored in the larger Anable basin. The project explores the idea of a "floating existence."
The third place proposal, Merroir, completely reimagines the idea of an aquarium. Rather than what an ordinary aquarium does — traps animals behind glass for viewers to point and stare — Merroir encourages encounters and organic interactions with the inner workings of closed aquatic ecosystem. Three different networks of bells offer different interactions: mobile bells for aquatic habitats, cadastral bells on the constructed environment, and datum bells for sea-level rise.
Honorable mentions for the Arch Out Loud competition included L.A.N.T.E.R.N.A. (Light And Nature for the East River New York Aquarium), a "life and light experience" with a system of lanterns on one side and the Manhattan skyline on the other. NYCEA, New York City Estuary Aquarium from Montreal, stresses the dangers of pollution in the East River by concluding a visit to the aquarium with a necessary reality check.