On the Set of AMC's 'Feed the Beast' with David Schwimmer and Clyde Phillips
Weird hangs with former 'Dexter' producer Clyde Phillips and the man who was Ross Geller.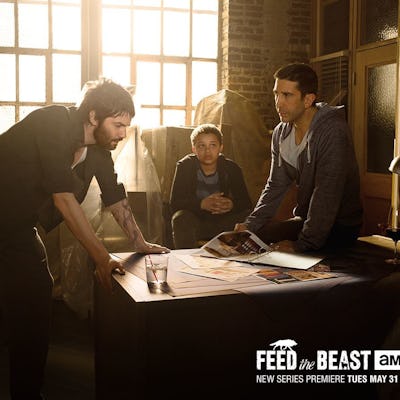 https://www.facebook.com/AMCFeedtheBeast/photos
"Listen," Clyde Phillips says, setting down a plate of octopus chunks, and pointing at a nearby speaker. "Here's the theme for our show." The smoky, adult-contemporary acoustic blues that underscores the opening credits for the Dexter and Nurse Jackie showrunner's newest black-comedy series, AMC's Feed the Beast, pours through the speakers. "I got to write the lyrics," he explains, nodding his head. Feed your dreams/So it seems/All I see is what I used to be, the vocalist — jazz singer Sasha Dobson — wails.
I'm pretty sure this isn't the first time we've heard the song in the last couple of hours, although, to be fair, much of the playlist sounds similar. The music curation relates only loosely to the rest of the event. We're in a crowded, vaguely rustic dining room in the middle of a five-course meal, just outside of a spacious kitchen, adorned with decorative tile and canisters of spices. Attached is a serviceable wine room crowded with tall, meticulously numbered wooden racks. This is Thirio — "beast" in Greek — the fledgling Bronx Greek-Mediterranean restaurant in and around which most of Feed the Beast takes place.
Of course, we're actually on a soundstage in the Kaufman Astoria Studios in Queens, New York. Phillips's new show — a loose remake of the Danish black-comedy series Bankerot — focuses, in a vaguely David Simon-esque manner, on the beginnings of gentrification in the Bronx in the present day. It is filmed entirely across the river, however, either here or in the nearby, already-very-gentrified Long Island City and Greenpoint neighborhoods.
The "restaurant" is only semi-functional. Plastic rabbit carcasses and steaks hang in the storage room, and Phillips points toward the real prep kitchen on the other side of the wall. Various cast members are milling around nearby (leads David Schwimmer and Jim Sturgess, and other recognizable stars: Mad Men's Michael Gladis, The Wire's John Doman, recent Eli Roth collaborator Lorenza Izzo, Heroes' Christine Adams) celebrating that there are only two more weeks and two episodes to go before the series is wrapped.
The fictional restaurant — much smaller than it appears on camera, as things usually are — is built over the course of Phillips' 10-part series. Starting the business is a fraught labor of love for protagonists Tommy Moran (Schwimmer — diplomatic, dapper, and passionate while sipping champagne and chardonnay) and Dion (Sturgess — scraggly, irreverent, commanding a saucer-eyed crowd with feta-cheese-filled plate in hand). The two men are childhood friends from the Bronx, whose dreams of becoming, respectively, a sommelier and chef in their own restaurant were ruined by a tragic accident — a car accident took the life of Schwimmer's wife, Rie (Adams) — as well as their own vices.
Sturgess — thanks to too many key bumps in the bathroom, apparently — burned the old restaurant space down, and subsequently served a year in jail. Schwimmer, thanks to too much of the wine he's an expert on, lands a dead-end job shopping sub-par wines to area liquor stores — "to people who don't know a goddamn Syrah from a Sauternes," he yells, deadly seriously, during the cold open for the second episode. Tommy's other primary concern is his traumatized son, T..J. (Elijah Jacob), who is failing at school largely because he refuses to speak.
"Frankly, I'm really drawn to broken people," Schwimmer says, deep-V-necked and blazered, leaning on the faux host's table and its scribble-covered reservations book. "We're all flawed and broken in some way. My heart really went out to the character when I learned about his circumstances — struggling with alcoholism, but also being a sommelier. I've always been fascinated by somms — like, how do people even decide to be somms?"
It's not just watching Tommy and Dion doing themselves and each other in that drives the conflict of Feed the Beast; there's more sensationalist stuff to contend with. In Phillips' Bronx, there are thugs and skullduggery to blame for any successful business venture. "None of us are naive enough to think that office building in New York goes up without some shady dealings," he explains matter-of-factly. Naturally, then, Thirio's resurrection and survival depends on the Bronx's Polish mob, though as far as I can ascertain from Phillips and the cast, that's not something which exists, or has existed.
"It's not really like the Polish Mafia in Greenpoint, who are more like what you'd think the Russian mob would be like." Michael Gladis — who plays the soft-spoken but ruthless wrench-wielding don Patrick "The Tooth Fairy" Woichik — explains over Greek yogurt panna cotta. "They definitely don't wear tailored suits, and speak in an erudite sort of way like my character."
In the pilot episode, Woichik whacks Dion's finger half to bits, in retribution for the half-million he lost the gang by burning down the old restaurant. "Let's try something new, shall we?" he murmurs, raising the wrench. Usually, he yanks poor saps' molars out with it, earning him the nickname he shares with the "Red Dragon" killer from the Hannibal series.
If outlandish mob fiction, cooking porn, situational family drama, and a detailed examination of NYC gentrification-in-action ("Bronx is the last frontier," decrees Phillips, possibly forgetting about Staten Island) seem like an uneasy (and borderline silly) fit, thats because they are. Two episodes in, its hard to tell if Feed the Beast — a show whose first words are "Bon appetit," and begins every episode with dramatic action shots of Schwimmer or Sturgess firing up a stove and cooking something balletically on a skillet — will play the long game well.
The deliberately against-type casting of the leads, also, complicates the equation. Even more so than his recent role as a hapless, guilt-ridden Robert Kardashian on The People v. O.J. Simpson, Feed the Beast requires the viewer to drop any last Ross Geller associations when watching David Schwimmer. But the actor is doing his damnedest, and it's easy to believe him when he says he tapped into personal experience to internalize this role.
"I think as a father I can access things now I couldn't access 25 years ago," Schwimmer says, deigning not to identify Friends by name. "I'm a different person, and I'm now drawn to different roles. And I'm older so I'm cast differently as well."
Meanwhile, we have to believe Jim Sturgess — a pleasant, boyishly handsome British person — as a crude, rough-and-tumble lifelong Bronxite. Gladis, admirably tries to "play something more than just the heavy," but he still talks a little bit like the newly woke Paul Kinsey after his Buddhist conversion in Mad Men's Season 5, so it's hard to ease into.
As with most shows in its topical, realistic style, Phillips' series will succeed based on how intelligently and palatably it manages to convey its central personalities.
"The struggle is getting people to want two very fucked-up people to be in their homes every week, acting on their pain," Phillips explains. "In that way, it's similar to what I dealt with on Dexter."
Gladis, Phillips and Schwimmer all seem legitimately excited to play the odds with the show. "I'm a firm believer in the fact that we're living in the Wild West, or the Golden Age, or whatever they're calling it, of television," Gladis says. "It's incredibly exciting."
No matter what happens, at least the show took only a few months to cast and shoot, cost only a little, and was made entirely in a city in which most of the primary cast and crew live. It also revolves around a subject Schwimmer, Phillips, and Gladis, at least, are very passionate about: food and wine. Gladis worked in several different areas of the food industry as an actor in New York and self-identifies as a "foodie." Phillips' father, on the other hand, was a successful Boston butcher with ties to organized crime. Schwimmer, well, just drinks a lot of wine. "I love it, but I'm confident that I know next to nothing," he explains earnestly. "Usually I just defer to the somm of the restaurant."
Feed the Beast may end up as just another chewed-up-and-spit-out morsel for the hungry TV machine, but its more likely that it will sustain itself for longer than one might expect. After all, AMC non-Breaking Bad or Walking Dead-related side attractions, with far less star power and equally unlikely concepts (Silicon Valley drama Halt and Catch Fire Revolutionary War spy thriller Turn: Washington Spies), are already moving onto third seasons.
It's hard to tell what any of the people milling around Thirio are actually banking on for this show, but in such a flush, teeming bubble of an industry, it's probably no real skin off of anyone's back whichever way the proverbial kale toast with sorano beans (delicious, Phillips and I agree) crumbles. At least everyone seems to be truly enjoying the process, and the food and drink.
"I'm putting my heart and soul into this, working my butt off, 15 to 20 hours a day with the full knowledge that a huge number of people will just never see it," Schwimmer says, before turning his attention to the plate of lamb shoulder his assistant is handing him, and the next wine pairing. "That's very tough. But I think the tone of the show is really unique. I think it's pretty cool, but… you know what I'm talking about."
Feed the Beast will premiere on AMC on Sunday, June 5th.