'Civilization VI' Releases a New Trailer, Sets a Release Date
Cue up "Baba Yetu," everybody. We're about to get the first Civilization update since 2010.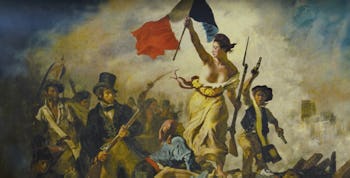 What business do you have here, warmonger?
Sid Meier's Civilization game series just announced a new version coming to PC in October. As usual, the trailer doesn't give us any insight on the new game's interface — it's just beautiful shots of human civilization and tech, from the Wright Brothers to the two beams of light representing the Twin Towers — but we can glean some details from the language used by marketers and producers in recent interviews.
"Everything that Civilization players have loved in Civilization V, we're bringing forward, in addition to putting on the new gameplay from Civilization VI," Dennis Shirk told The Verge. "It'll be like a warm blanket." Though Civ VI is intended to comfort and further inspire players of the Civ franchise, there are quite a few updates that will make the new game worth purchasing, including:
cities occupying more than one tile
new location-based bonuses for settlements
complex AI motivations and strategies
improved AI animation, including facial expressions and reactions
Changes to the A.I. leaders in Civ are, in part, inspired by the game's companion challenge, Beyond Earth, which launched in 2014 with improved interactions with NPCs. Also notable in the trailer is the fact that actor Sean Bean narrates the gameplay, as opposed to the late Leonard Nimoy.
Sid Meier's Civilization VI will be available for PC gamers on October 21st.