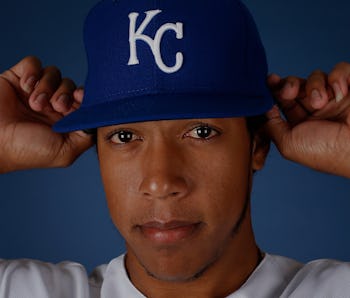 Mind and Body
What Is Clenbuterol? The Drug That Got Raul Mondesi Suspended for 50 Games
The decongestant has some performance-enhancing effects.
Christian Petersen/Getty Images
If you're in the major leagues, don't buy cold medicine over the counter in the Dominican Republic. Major League Baseball officials announced today the league would suspend 20-year-old Raul A. Mondesí, a Kansas City Royals shortstop, for 20 games after testing positive for clenbuterol, a steroid.
"I took an over-the-counter medication [Subrox-C], which I bought in the Dominican Republic to treat cold and flu symptoms," Mondesí said via a statement from the players association. "I failed to read the labeling on the medication or consult with my trainer or team about taking it and did not know it contained a banned substance. I tested positive for that banned substance, with a minuscule amount of Clenbuterol in my system, which could not have possibly enhanced my performance on the field, and now must face the consequences of that mistake."
What is Clenbuterol? It's commonly used as a decongestant for people with trouble breathing, but it also in enhances our aerobic capacity and stimulates our nervous system, among other effects that are performance-enhancing.
It is not approved for human use in America, although it is commonly used to treat horses that have respiratory diseases.
Mondesí was contrite in his statement and the officials with the league dropped his suspension from the regular 80 games to just 50 for the infraction.
"I apologize to my organization, my teammates, the fans and everyone who has supported me in my career," he said. "Never did I intend to take a substance that would give me an unfair advantage on the field. It is solely my mistake and there are no excuses for my carelessness in not being fully informed of what I put in my body. My goal is to work through this setback and make it back in time to help my organization compete for another World Series title."
Clenbuterol is more than just cold medicine, though. The stimulant is powerful in helping people burn fat — provided they exercise. Steroid.com offers this straightforward assessment:
[Clenbuterol] is a very common fat burning tool used by many anabolic steroid users. It is a long standing favorite among competitive bodybuilders and other physique athletes during contest preparation. However, it is also used by non-steroid users for its fat loss properties. You do not have to use anabolic steroids to use this compound for fat loss. We only mention that because this has for some reason become a confusing point for some.
On April 29, the MLB announced another suspension for a PED infraction: Dee Gordon of the Florida Marlins, the reigning National League batting champion, was suspended for 80 games when a drug test revealed Clostebol and Testosterone in Gordon's system.
The most high-profile suspension of the year comes from the world of tennis, where five-time Grand Slam singles title winner Maria Sharapova tested positive for meldonium, a drug she said she had been taking for years but only recently went onto the banned substances list. Sharapova said she did not know the drug had been added.
And buying over-the-counter cold medicine in the Dominican Republic isn't the only way you can test positive for Clenbuterol: Last week, NFL players found out that if they ate large quantities of meat from Mexico or China, they could test positive, as ranchers in those countries are known to dose their cattle with the drug to beef them up — even though the practice is illegal.