Gael García Bernal Signs Up For 'Zorro' Reboot, Continues To Inspire The Cuaróns
Bernal will suit up as the masked crusader in Cuaron's updated reboot, 'Z.'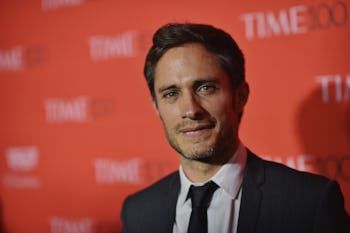 Dimitrios Kambouris / Getty
In February, filmmaker Jonás Cuarón agreed to helm a new Zorro reboot called Z, as the film's writer and director, and now the movie has picked up its obvious star.
Actor Gael Garcia Bernal has signed up to play the iconic masked swashbuckler, marking the second time he's worked with Cuarón after his film Desierto, which followed a Mexican migrant worker (played by Bernal) hoping to cross the U.S. border for a better life. That film debuted at the 2015 Toronto International Film Festival and secured a March 2016 release date before being pushed back to an undisclosed later release for 2016.
The casting news is beyond fitting, because Bernal is seemingly the go-to collaborator for two generations of Cuaróns. Not only did Jonas Cuarón's father, Academy Award-winning director Alfonso Cuarón, and his uncle, Carlos Cuarón, produce Desierto, but Bernal's international film career was jumpstarted by his appearance in Alfonso Cuarón's 2001 road movie sex-comedy Y Tu Mamá También, which was co-written by Carlos. Bernal also previously appeared in Rudo y Cursi, a drama/comedy written and directed by Carlos and produced by Alfonso.
Jonas's Z will be a modern day re-imagining of the iconic Mexican/Californian folk hero, and is supposed to reboot the old world story for a new generation. There's no details on just how Z will update the character to a futuristic setting just yet, but we're hoping they at least figure out a way to bring back the masked outlaw's iconic black garb, his trusted rapier, and his three-slashed "Z" calling card.
If the film makes its planned fall start date all the way through to release, it will mark the first time the Zorro character has graced the big-screen since 2005's The Legend of Zorro, starring Antonio Banderas and Catherine Zeta-Jones. The pair also appeared in that series' first installment, The Mask of Zorro.
Bernal's interpretation of the character will most likely be as new as the context of the upcoming movie, and he's got a lot of on-screen history to live up to. Previous to Banderas donning the black mask, Zorro has been brought to life in numerous books, films, TV shows, and other media stretching back to the first book series nearly 100 years ago. Perhaps unsurprisingly, the producer of Z had nothing but nice things to say about Bernal.
In *Deadline, producer Mark Amin said, "I have always loved Gael for this role," and "Zorro is a hero who is charming, witty and clever. Gael possesses all those characteristics and he's able to deliver them with a modern spin to introduce the Zorro character to a new audience."
We imagine Alfonso and Carlos have nothing but praise for him as well.