ESPN's 'O.J.: Made in America' Documentary Gives You What 'American Crime Story' Didn't
The nearly-eight-hour docuseries approaches the case from all angles, and argues the verdict was a triumph.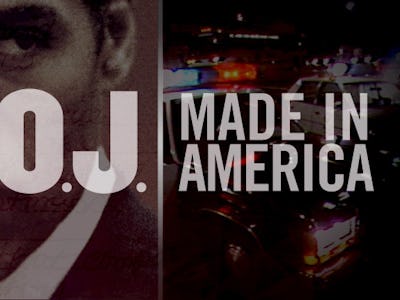 American Crime Story: The People v. O.J. Simpson was a true sensation — a true zeitgeist show in an age of too much BS to binge, an important and nuanced show touching on the knotty, tragic history of race relations in America. In many ways, it was not about O.J., though it brought us back to him in the Ryan-Murphy-produced show's final installment, leaving the viewer with a final bit of ambiguity, skewed heavily toward guilt and O.J.'s own self-deception.
Is there more to say about the case, cinematically? Yes, when you try to excavate the societal reaction seen mostly in news broadcast and montage in American Crime Story in depth, as well as actually present the evidence we only see snippets of on that show.
This is what O.J.: Made in America — a nearly eight-hour long, ESPN '30 for 30' documentary — aims to do. Directed by Cutie and the Boxer director Ezra Edelman, the film fulfills its title, focusing on both the case and the more important phenomenon it caused in the country. American Crime Story begins with images of the Rodney King riots, but it does not spell out the full history of relationships with the LAPD (How was a Mark Fuhrman type born/possible?) In fact, there are endless subcultures and ripple effects of the case that the FX show did not address, in its effort to encapsulate evidence from different tell-all memoirs into a behind-the-scenes drama. So if you were worried that watching a multipart doc after the show would be redundant, think again.
The dramatic trailer focuses on differing, vitriolic accounts of O.J.'s significance, from representatives of different enclaves and demographics:
By examining how the O.J. trial became a metaphor for the sociological landscape in "America," the documentary aims to show how his unlikely acquittal — based on its resourceful and incendiary defense — became a race-relations milestone. It does not (as in Martin Sheen's pending, subtly titled Hard Evidence: O.J. is Innocent, which premiered at Sundance this year) make any bones about the possibility that he is not guilty.
One of the chief draws of the documentary is the fact that it includes never-before-seen footage, even some of O.J. behind-the-scenes during the trial. Some coverage of his life after the trial will be included as well, to help shed light on both who the world thought this man was, and the truth of the matter. Figuratively as well as literally, it gives O.J. much more of a voice than American Crime Story.
If this doesn't seem enticing enough, maybe you should take a look at the reviews — which have trickled out after the documentary's screenings at Sundance, Tribeca, and HotDocs Festivals respectively. They've been almost universally positive. Will Leitch wrote for New York Magazine that the doc "will be the only thing this country's going to be talking about."
O.J.: Made in America is set to hit select theaters this month, and then run on ABC primetime and ESPN in installments during the week of June 11th. Don't miss it.