The Bison Is Now America's National Mammal
With the Bison taking the title of National Mammal, the Bobcat and Mountain Lion may just have to compete for National Cat some day.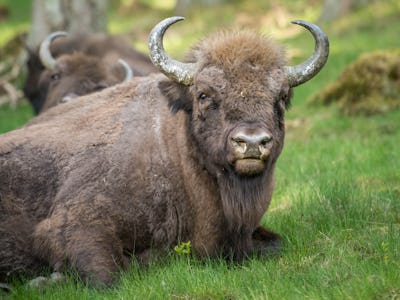 Thomas Lohnes / Getty Images
In the everyday stream of news, pop culture, and politics, it's easy for those of us who live outside of America's great plains to forget about the majesty of our wildlife at home. Across the nation, native animals still roam freely, even though their very existence is often a struggle against forest fires and illegal huntsmen. Now, one of those majestic animals is forever under the protection of the United States government, and will represent the nation to the world alongside our national animal (and national bird), the Bald Eagle.
Today, President Obama signed new legislation declaring the Bison as the United States' official national mammal. The American Bison have experienced devastating losses in number throughout the years; where they once roamed the country in the millions, there are only 500,000 known Bison left, and of that number, only 30,000 are wild. The legislation is meant to elevate the stature of the Bison on a national level, due to its economic and cultural significance in the nation's history.
As detailed on ABC10, the bill comes with a handy set of facts on the bison, explaining how the animal lives, it's significance to American culture, and what it needs to survive:
► A bison is portrayed on two state flags;
► The bison has been adopted by three states as their official mammal or animal;
► A bison has been depicted on the official seal of the Department of the Interior since 1912;
► The buffalo nickel played an important role in modernizing the currency of the United States;
► Several sports teams have the bison as a mascot, which highlights the iconic significance of bison in the United States.
The legislation is backed by a coalition of ranchers, wildlife advocates and tribal nations, who hope to see the Bison's survival and reproduction rate experience the increase driven by that of the Bald Eagle's iconic status. The once highly-endangered bird is now at the lowest level of concern thanks to conservation efforts like these. It follows an annual controversy surrounding Yellowstone's deadly population control methods in the winter.
Senator Martin Henrich (D-New Mexico) expressed high hopes for the Bison today. "I hope that in my lifetime … we will see bison return to the prominent place they once occupied in our nation's shortgrass prairies." Senator Henrich worked with North Dakota's Republican Sen. John Hoeven to pass the Senate version of the legislation.