New 'Doctor Who' Audio Dramas Will Not Stop Running Until 2026
Big Finish renews their license to the BBC property for ten years.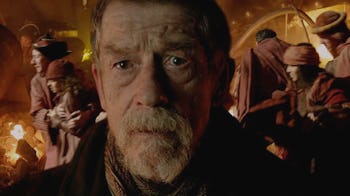 If you're a modern Doctor Who fan who has any interest in dipping your toe in the fandom beyond the TV show, you've probably run across Big Finish audio productions. The studio creates modern versions of traditional radio dramas that continue the Who storyline and often feature big names from that universe, including a number of former Doctors whose character live on in audio format. The BBC has renewed its contract with Big Finish to license the property for an unprecedented ten more years, meaning a number of different Doctors will still be having adventures into 2025, even if the show itself is on uncertain ground right now.
Since 1999, Big Finish has released hundreds of productions which are available on CD and as a digital download. The arcs are somewhat pricey, usually in the range of $25 for digital and $40+ for physical copies, which is the only bummer for fans who would like to devour more Whoverse material.
Forthcoming highlights from Big Finish include the return of David Tennant and Catherine Tate as the Tenth Doctor and Donna Noble in The Tenth Doctor Adventures, three brand new full-cast audios available from May 16th. John Hurt returns as the War Doctor in four box-sets, with Doctor Who – The War Doctor: Only the Monstrous and Doctor Who – The War Doctor: Infernal Devices which are currently available.
Tom Baker, Peter Davison, Colin Baker, Sylvester McCoy and Paul McGann regularly record new adventures, alongside their television companions. Alex Kingston returns as archaeologist River Song in The Diary of River Song, alongside the classic doctors. Jemma Redgrave and Ingrid Oliver play Kate Stewart and Osgood in the action-packed UNIT: The New Series.
Paul McGann's Doctor is one of the most prolific in the Big Finish productions universe, which has turned into a great opportunity for an actor that only got to portray the time-traveling hero in a single made for TV movie. Hurt was also more of a one-off inclusion in the series, so his new adventures are particularly exciting — and will hopefully fill in some of the mystery surrounding his choices and impact on the survival of Gallifrey.