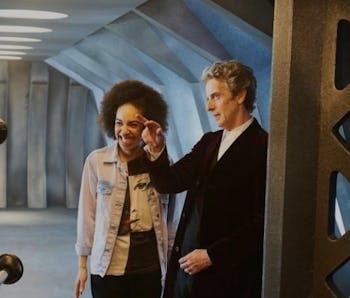 Entertainment
Who Is Pearl Mackie, Doctor Who's Mysterious New Companion?
Here goes something new. And we are stoked.
It has not been easy for Doctor Who in the last few months. There's been some major shake-ups, and the entire year of 2016 has had Who episodes completely removed from many streaming services. There's a new showrunner headed in, and even the role of Doctor may be up for grabs. So when casting for a new companion was announced awhile back, it set off some wild speculation. Turns out everyone was way off about who that companion would be — since producers casted someone entirely out of left field.
Meet Pearl Mackie, who is taking on the role of "Bill," a name that will probably be played for some laughs because gendered names are tricky — even though New Who's first companion was a Billy.
The casting was announced via a video that played during the FA Cup soccer match featured on Saturday. This is particularly funny considering that soccer has had a lot to do with the decision to cancel the 2016 Who season, so forcing Whovians to watch a match to catch the announcement feels particularly mean-spirited.
So who is Pearl Mackie? Her acting resumé is light; she is currently performing in The Curious Incident of the Dog in the Night-Time for the National Theatre, and has appeared on a television show called Doctors.
But she's already gotten to work on the set of Doctor Who with Capaldi, and the two claim to have found their chemistry, even if filming will not begin until after the run of Curious Incident ends.
The clip for the announcement refers to Bill as a "friend from the future," which is an exciting choice. Only a select handful of companions throughout Who History have been from the future — usually because it takes away the awe-factor of people from our time seeing space travel. This also includes the first Doctor's companion Vicki who called the 25th Century home.
That's one of the strongest reasons to think this new companion will be perfect for the show, because a companion from the future usually means a woman who is often proven as smarter than the Doctor. And that's exactly what Capaldi needs right now, because Clara was all emotions; this can be a corrective.
Also, as the clip shows us, Bill seems to have no idea who The Doctor is. That is much needed after spending two seasons watching Clara try to teach the man who she thinks he should be. This is, hopefully, a promise of adventure over introspection.
Newcomers to the show will probably be surprised to hear (because of the internet's constant complaints about diversity on BBC) that this isn't the first black female companion in the new series. Martha Jones (Freema Agyeman) was a medical student that crossed paths with The Doctor and eventually became of a member of the U.N.I.T. and Torchwood organizations. Jones is famous among the companions for being one of the only partners to ever leave the Doctor because she realized she was too good for this nonsense, and for him. Let's hope Bill has that same kind of strength.
On the subject of race, American audiences are often surprised by the representation on display in the new Who. Many of the long running characters have been people of color or have been in inter-racial relationships, which isn't just impressive for BBC programming, but for sci-fi TV in general. This is sort of a general reminder, for when you inevitably see that argument from your worst internet commenters against Mackie's casting.
Filming of series 10 is due to start in a few weeks, but it won't air until 2017, meaning it will be a while until we see Capaldi on screen with Mackie. In the meantime, you can become one of Pearl's 17,000 new Twitter followers.