Batman: Arkham Asylum' and 'City' Coming to Xbox One, PS5
'Batman: Arkham Asylum' and 'Arkham City' will get the inevitable makeover on the Xbox One and PlayStation 4.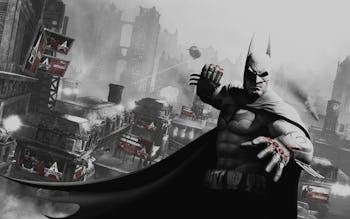 Warner Bros. Interactive
Batman fans, get ready to return to Arkham Asylum (and City). Two of the best Batman games ever produced, 2009's Batman: Arkham Asylum and 2011's Batman: Arkham City from London-based Rocksteady Studios, will be re-issued in an updated collection titled Batman: Return to Arkham for the Xbox One and PlayStation 4 on June 10.
The news comes from an Italian WB Games magazine, a scan of which was posted on Imgur and Reddit over the weekend. The collection will also contain all DLC (via GamesRadar).
For months, rumors have swirled regarding a re-release of the first two Batman: Arkham games (considered the best of the series) and only intensified within the last few weeks, with the scans serving as an unofficial-yet-official confirmation. Official social media channels are mum; as of this writing, the official Batman: Arkham Twitter hasn't posted anything since April 18.
This console generation has been notorious for re-issued collections and "HD remasters" (a bit of a technical misnomer), but sales of these games have proved profitable despite popular opinion. For games of prestige reputation such as Arkham Asylum and Arkham City, the news comes with mixed emotions. Writes one Reddit user: "As much as I dislike the cheap gimmick of re-releasing games for newer console generations, I can't help but feel hyped for [Batman: Return to Arkham] because these games are masterpieces."
2013's Batman: Arkham Origins, which was lesser received by critics and fans, appears left out of Batman: Return to Arkham. Aside from the fact it wasn't made by Rocksteady (Warner Bros. Montreal took over development for the installment), the game was already released for the Xbox One and PS4. Ditto for 2015's Batman: Arkham Knight, Rocksteady's conclusion to the franchise, which does not yet have and likely never will release an all-in-one "Game of the Year" edition, despite its crazy amount of extra content.