Alan Tudyk, Nathan Fillion Return to 'Con Man' Season 2 on Comic-Con HQ
The web series about pathetic convention life will air exclusively at the mother of all convention platforms.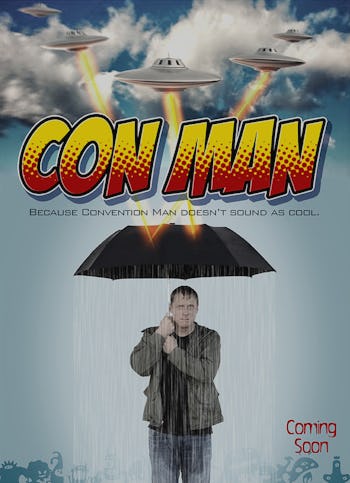 Con Man, Indiegogo
Film studio and distributor Lionsgate is expanding Comic-Con International, the annual geek convention that invades San Diego every summer, with a VOD service called Comic-Con HQ.
"Were in this for the long run," Comic-Con HQ general manager Seth Laderman told Inverse last year. "We have a really good feel for the audience and we think if it's something we enjoy, we hope they will too." If their latest acquisition indicates anything, then they really know their audience.
Con Man, a comedy web series about a struggling sci-fi actor created by and starring Firefly alum Alan Tudyk, has been acquired by Comic-Con HQ for a second season and will premiere in late 2016. The first season will also be exclusive to Comic-Con HQ in June, following the platform's beta launch on May 7. Con Man was previously available to customers on Vimeo.
"We are thrilled to be a part of the Comic-Con HQ family," said Tudyk in a statement. "For a series that was born out of a passion for the genre and support from the fans, we couldn't think of a better way to connect with our community." Season 2 will also star Nathan Fillion reprising his role as Jack Moore, an A-list star whose career skyrocketed while Tudyk's Wray Nerely floundered.
In addition to Con Man, Tudyk will have a supporting role in the upcoming Rogue One: A Star Wars Story arriving in theaters this December.