'Firefly' Alum Shows How Sci-Fi Fame Sucks in 'Con Man'
Is it better to have succeeded once than never to have succeeded at all? It's debatable.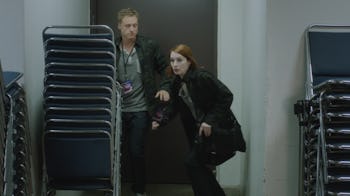 Comic conventions are fun. For attendees. For a guest — most of the time faded actors from an old sci-fi show — it can be the worst. Sitting in convention center halls for a weekend schilling autographs in shitty cities can be exhausting, expensive, and professionally frustrating. But as the old adage goes, comedy is pain plus time.
After a decade of attending conventions, Alan Tudyk and Nathan Fillion of Firefly fame have banded together for Con Man, a webseries debuting today on Vimeo On Demand.
The series, funded on Indiegogo, is a thinly-veiled comedy memoir about Tudyk and other genre actors like him going through that never-ending cycle of conventions and failed auditions. Sci-fi and genre staples like Joss Whedon, Wil Wheaton, Summer Glau, Tricia Helfer, Seth Green, and Sean Astin show up in cameos and minor roles.
I go to Comic-Con and small conventions on a regular, and by far the worst part is seeing the exhausted look of actors and actresses I had seen be strong-willed badasses on TV. They can be cranky and unpleasant, and seeing them trying to set up their own table is sobering. It dispels the illusion about fame, how much it can actually suck, and how it never ends up the way you want or hope for it to be.
Of course not all convention guests are like that, and in recent years A-list celebrities and prestige actors have started making convention appearances. Oscar-nominee Michael Shannon hit up Wizard World Chicago to promote Man of Steel in 2013, and just last week Chris Evans, Anthony Mackie, Hayley Atwell, and Sebastian Stan of Marvel fame attended the Salt Lake Comic-Con.
But, as Con Man demonstrates, I disagree that you should never meet your heroes. Meet them — you learn the true nature of people that way.