Oculus Hires New COO Hans Hartmann to Tighten Up Supply and Delivery Delays
The former FitBit COO is expected to help with Oculus' plagued history of supply and delivery delays on its VR headset.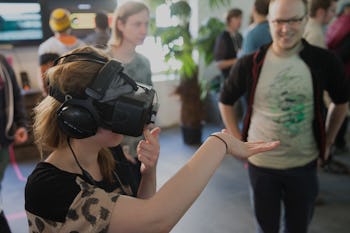 Axel Schmidt/Getty Images
Oculus, best known for its virtual reality hardware known as the Oculus Rift, is partially responsible for setting the VR market aflame in the first place. But for a project so ambitious, the Oculus Rift has seen years of delay. Today, Oculus CEO Brendan Uribe took to social media to announce a shift in positions at the Facebook-owned virtual reality company, welcoming FitBit's Hans Hartmann as the company's new COO. Iribe also addressed the future of founding COO Laird Malamed, who would "be taking on a new executive role helping us scale the business, to bring virtual reality to millions around the world."
With him, Hartmann brings 30 years of experience in supply chain, product development, and information technology executive management to a company that has admittedly struggled with delivering their primary product, the Oculus Rift. Hartmann spent fifteen years at Hewlett-Packard "in the computer products and printer groups and numerous successful early-stage high technology companies." Similar previous positions include his time spent as COO of Skyline Solar, a solar energy provider in New York, as well as time spent under the HP umbrella.
The news comes after a history of delays in product and countless complaints from frustrated customers, with little guidance on the side of PR. Pre-orders have been so overwhelming that the company advised potential customers in advance that one of their best chances of obtaining the headset immediately would be to make it to one out of the 48 Best Buys offering the devices on their shelves this coming Saturday:
A small number of Rifts will be available for purchase at select Best Buy stores starting May 7 and online from Microsoft and Amazon, starting May 6 at 9am PST. Quantities will be extremely limited while we catch up on Rift pre-orders.
Along with promised in-store demos, Oculus will work with customers who have pre-ordered the Rift to cancel their current orders after purchase, starting on the 6th. Potential customers are also welcome to schedule a live demo with the Rift a month in advance with Oculus Live.