The 11 Most Exciting Horror Games Coming Out in 2016
Allison Road, Outlast II, and DOOM!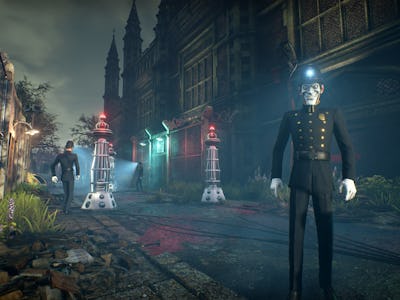 Compulsion Games
2016 is looking like a great year for horror games. From shooters to stealth, psychological to survival, there is a wide variety of games releasing this year from different game developers. The fact that this list is comprised mostly of original titles means that developers, both veteran and new, are exploring the horror genre and coming up with exciting new ideas for how to scare players. Here's a list of some of the most intriguing horror games set to debut in 2016.
Allison Road
While definitely inspired by the short-lived, much-missed Hideo Kojima Silent Hills demo (and hey, maybe the Gin Blossoms song), P.T., British studio Lilith is looking to make its own mark on the paranormal house genre. A first person experience that involves traversing through a terrifying suburban home, Allison Road is shaping to be a fantastically designed game with brutal scares choreographed for maximum terror.
DOOM
The name in horror shooters, DOOM is set to make a big comeback by making everything more insane. Bigger everything seems to be the design philosophy here, with trailers showcasing bigger weapons, bigger monsters, and bigger kills. No longer limited to just blasting away evil hell spawn, you're now able to go mano-a-demono with your fists if need be.
Friday the 13th
Jason is a horror staple and, he too is set to make a big return. Alongside a new television show in development, there will be an upcoming video game tie-in. While details are still sparse, we know that one player will take control of a terrified teenager trying to survive, while the other will take control of Jason himself in a very sick game of cat-and-mouse.
Outlast II
Outlast married the no-combat horror of Amnesia: The Dark Descent with the found footage genre to create one of the scariest video game experiences of all time. Outlast II will try to capture the same terrifying magic with a sequel that will feature new characters in a new setting that is very reminiscent of the religious-horror found in the first season of True Detective.
Perception
Former BioShock developer Bill Gardner decided to make a horror game starring a blind woman as its protagonist. The result is Perception an upcoming first-person horror game in which the player must use echo location to navigate his or her way around a deserted mansion. This isn't a chance to be Daredevil however, as you quickly discover that you're not alone. Perception looks to be a creative approach to the stealth-horror genre, and a uniquely terrifying experience.
System Shock
Speaking of BioShock, the original game that inspired the wildly popular franchise, System Shock, will be receiving a remastered update later this year. After a spaceship's artificial intelligence goes rogue, it's up to you to survive in this dystopian cyberpunk world. The original was a terrifying game that beautifully combined its futuristic atmosphere with genuine scares. However, System Shock is also incredibly dated, and the update looks to modernize the spirit of the original.
Tangiers
An immersive stealth game, Tangiers takes place in an abstract dystopia full of Lynchian nightmares. The monochrome aesthetic and nightmarish landscapes makes the prospect of fully exploring this world very tantalizing. Unfortunately development has hit some troubles and there have been no updates on the project in some time. Here's hoping the British indie developers pull through as Tangiers is one of the most visually stunning titles on this list.
Through the Woods
Topping many "most anticipated" lists is Through the Woods, a third-person psychological horror game about about a mother looking for her missing son. The Norwegian developers set the game in their native Norway, with a story heavily influenced by Norwegian folk tales. The game will feature dynamic narration, meaning the story will unfold differently depending on certain actions the player takes.
We Happy Few
Compulsion Games makes stylish games that rely on a very Burton-esque aesthetic. While their previous game Contrast was more of a dark fantasy, their upcoming We Happy Few looks to indulge full-throttle into the nightmare of an alternate reality England in the 1960s. We Happy Few is creating a dystopia as manic, and drug-fueled since BioShock.
What Remains of Edith Finch
Unsettling. That's the best way to describe What Remains of Edith Finch the new game from The Unfinished Swan developers. Alternating between stories starring various members of the mysterious Finch family, details are being kept tight under wraps so as not to spoil the unraveling family tapestry. Developer Giant Sparrow is promising a multi-layered, surreal horror story like something out of The Twilight Zone.