'Sharknado: The 4th Awakens' Aims for Star Wars Traffic, Casts Slipknot Member
The latest film in Syfy's franchise also promises appearances from 'Shark Tank' alums and Dog the Bounty Hunter.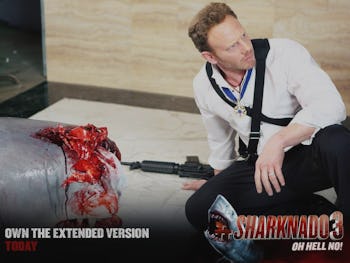 Looks like the folks at Syfy are seeking some hashtag attention today by unveiling the 4th movie in their popular tongue-in-cheek Sharknado series, Sharknado: The 4th Awakens, on May the 4th.
The movie poster for the TV movie — another exploration of the perils of shark tornadoes — riffs on the poster for The Force Awakens, with chainsaws and AKs subbed in for lightsabers:
It's a cheap gimmick, but then again, so is Sharknado, in the best way possible. In the 4th film, which premieres on July 31st, we can expect more of the same trashiness and non-sequitur, if the cast list is anything to judge by.
The most ridiculous cameos promised for The 4th Awakens include Stacey Dash (as the Mayor of Chicago), Duane "Dog the Bounty Hunter" Chapman, Real Housewives of Atlanta's Cynthia Bailey, Mötley Crüe lead singer Vince Neil, Loveline's Dr. Drew, and Corey Taylor… that's right, head clown-monster in Slipknot.
Here's the full list:
This lineup of potential Howard Stern guests seems like a pretty good recipe for outlandish sleaze. As for the plot, well, Syfy doesn't have much to report. Then again, does it matter?
"With sharknados back in full force, it's only natural that Fin Shepard (Ian Ziering) would need to enlist help from some new friends in his tireless fight to protect the world from the sharknado menace…"
These "new friends," of course, will also include Gary Busey, who was previously announced as co-star Tara Reid's dad. In other words, Sharknado as usual, this is.