Hybrid Air Vehicles Just Offered This Bold Prediction on the Future of Massive Airhips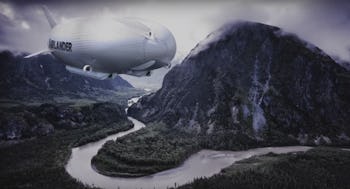 YouTube
Airplanes offer the fastest form of mass travel, but what if the goal was to stay in the air for a sky cruise, or transport vast amounts of cargo to remote locations that have no infrastructure? That's the market where the futuristic flight company Hybrid Air Vehicles says its floating airship, Airlander, can dominate.
And with a new video released today, Hybrid touts a projection that global markets could demand 500 such airships — whether produced by the privately held British company or not — in the next twenty years.
The blimp-like craft uses a combination of helium, fixed-wing, and helicopter technology, all of which enable the massive craft to float for up to five days while in operation or more than two weeks if left stationary.
"The aviation market is huge and it brings people and goods together, families, friends and business colleagues and trade," a narrator announces in the video, which was uploaded today. "Every so often an innovation and game-changing aircraft disrupts the norm and opens up further fantastic new possibilities to this market."
Hybrid Air Vehicles claims in the video that an independent market report found there's $50 billion at stake over the next 20 years for air ships such as Airlander, which could drive the production of 500 aircraft by 2036. To seize that market, the company claims it's three to five years — and $200 million ahead — of its nearest competition.
The company recently told Inverse that it's not entirely sure how the aircraft will be used in the future, but it's preparing for everything. The video claims it could be used to deliver fuel and equipment to remote areas of Alaska and even deliver high speed wifi connectivity to attendees of music festivals, like England's five-day Glastonbury Festival, to organizers who want use the tech.
Airlander is also more environmentally friendly than planes or helicopters. By using 1.3 million cubic feet of helium, the air ship burns less fuel and thus lowers cost, two problems the company says are pervasive in aviation.
Check out the video below.