As Ted Cruz Drops Out of Race, "Zodiac Killer" Trends Worldwide
After nearly a year of Ted Cruz's campaign, these Americans still believe the popular theory that the Senator is the Zodiac Killer.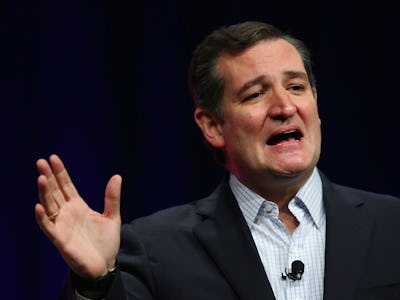 CNN
In a move that many pundits and publications have been predicting since February, republican Senator Ted Cruz officially dropped out of the race for President as his opponent, real estate mogul Donald Trump, made another massive stride toward the 1,237 delegates needed to win the party nomination on Tuesday. Cruz's campaign was doomed from the start, but the original darling of the Tea Party continued in the face of countless awkward moments, often involving his own family appearing uncomfortable around him on the national stage. Promptly after Cruz's announcement, one popular theory surrounding the former candidate made its way back to Twitter for one last hurrah: his alleged role as the Zodiac Killer.
Back in February, we sat down with internet personality Tim Faust to talk about how his efforts to immortalize it on a t-shirt helped the rumor spread like wildfire. According to Faust, the rumor's entire popularity was based on its believability, regardless of historical fact. "Ted Cruz being the Zodiac Killer, there's no air of presumed authenticity, because the dates don't match, and it's ridiculous, right? But its pervasive anyway. Something about his personality." Today, that pervasiveness continued on Twitter, reaching the top U.S. trends less than an hour later. In a final farewell to Cruz's campaign that only the internet could spawn, twitter users continued to guess the real identity of the Zodiac Killer, and where Ted Cruz would go to — allegedly — continue his killing spree.
Some conspiracy theorists (and comedy writers) took Cruz's resignation as a sign that his spree was about to begin again.
Some speculated on past events within Hollywood's Inner Circle:
Others offered their condolences:
Meanwhile, Cruz's supporters took to twitter to combat the rumor, perhaps for the last time.
Everyone else, though, seemed happy to put this joke to rest.
While some users spoke out against the ongoing joke, stating that real women were murdered in the cases of the Zodiac Killer, Faust's efforts to sell merchandise that asserts the theory have resulted in countless donations to West Fund, which benefits women's health clinics and planned parenthood efforts in Cruz's home state of Texas.
The Huffington Post reports that Cruz, who most recently attempted to save his campaign by nominating former opponent, Hewlett-Packard CEO Carly Fiorina as his running mate, announced his withdrawl to supporters and staff in Indianapolis. "Tonight, I'm sorry to say that path has been foreclosed, said Cruz, but the voters chose another path."
With his greatest rival out of the game, Trump is likely to secure the Republican nomination, with social conservatives effectively turning on Cruz (their predicted champion) to support the New York mogul. In the end, Cruz left his campaign much like he ran it: awkwardly, and in a way that made his loved ones uncomfortable.