Apple's "i" Devices Turn 18: Is the Brand Leaving Them Behind?
Steve Jobs introduced the iMac on this day in 1998.
by Kastalia Medrano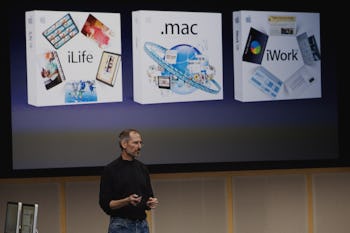 Getty Images
On May 6, 1998, Steve Jobs introduced the iMac, the first in what would become, as we all know, a long, long line of "i" products and services Apple churned out in the 18 years since. The iMacs, the iPhones, the iPads, the iBooks, the many, many, many iPods — they became emblematic of consumer technology in the 2000s, and if you were in middle school or high school during those years and say you did not crave an iPod Mini in the color of your choice, you are surely lying.
There was iLife and iWork and iCloud and iTunes and iOS. For a while there it seemed like pretty much everything Apple came out with had an "i" firmly affixed to its front, synonymous with the brand the way "Mc[insert food item of questionable value here]" is with McDonald's.
Despite 34 "i" trademarks in its software and hardware to date (not including "service marks" like iTunes), in the last few years Apple has cooled it somewhat with the moniker. The Apple Watch arrived last year without it, as have Apple TV and a bunch of MacBooks. The reigning iPhone obviously isn't going anywhere for some time, but the iPod has certainly reached the end of its life and will soon die of natural causes, no matter how many generations Apple puts out (seven? eight?).
Apple has some slogans trademarked (yes, there is still An App For That), but not the "i" moniker itself. The reason it's the Apple Watch and not the iWatch? Someone else already owned that name. And earlier this week, Apple lost the "iPhone" trademark rights in China — a shrewd leather-goods company beat them to it, marketing their products with the embossed label "IPHONE."
Apple does seem a bit less invested in its signature letter these days, as though it's no longer a priority. In the last 18 years, Apple has watched the iProducts grow up — maybe the company thinks it's time to cut the cord.