The Original Boba Fett Actor Wants in a Spinoff Film
Four decades after playing the most ruthless bounty hunter in the galaxy, Bulloch tells his story and looks to the future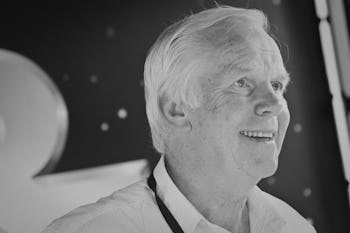 www.flickr.com/photos/hyku
Jeremy Bulloch had an extensive and wide-ranging acting career before he put on the now-iconic Mandalorian armor as Boba Fett in The Empire Strikes Back in 1980. But thanks to the rabid Star Wars fandom, he's still known mostly for a role where his face isn't on-screen at all.
It's people like Bulloch, who were caught up in the middle of the big cultural phenomenon of Star Wars, that drives the new documentary Elstree 1976, so named for the studio where A New Hope was shot. Director Jon Spira sat down with background actors, as well as more prominent members of the cast like Bulloch and Darth Vader performer David Prowse, to have them tell their stories about playing a part in the cultural revolution.
Inverse spoke to Bulloch about the new documentary and what he thinks about continuing Boba Fett's story in the rumored standalone movie.
What made you want to participate in Elstree 1976, even though you've told your Star Wars story countless times?
They said it was a story about bit-part actors, and that's when I nearly went through the roof. That was the start, but Boba Fett is not a bit part. I've been acting since I was 12 years-old, playing great parts in theater, television, and film. It was a wrong start, and I nearly didn't want to carry on.
But you cleared everything up?
It was just that the very start needed to be okayed or corrected.
For a lot of people Star Wars was probably their first and only day on a film set. They may not have had any dialogue, but it's still interesting. Everybody thought, "Wow, I've just been in this film," and it was great for a lot of people.
What's it been like maintaining your relationship with fans all these years?
There's lots of people that ask if I could sign things with a "Boba Fett green" pen, and I usually say, "No, you're getting black and that's it." And they say, "What!?" And I say, "It was a joke: English humor."
You have a bit of a rapport with the fans, and they're really very unassuming and polite, and really fantastic. The fans deserve an accolade of their own.
Do you get tired of getting asked about Star Wars?
I've never gotten tired about it at all because it's part of my duty. You get a conversation going and it's lively banter, it's not serious. Most people have run out of things to say now, but there's always something new.
You've had a long career, and it's ironic that you're remembered for this masked performance. Do people mention your other roles beyond Star Wars?
Most people in the UK and parts of Europe know me from loads of things over the years. Early on I did Mary, Queen of Scots in a kilt and a sword about the Scottish highlands; I was in a soap opera called The Newcomers for three years, and I did 21 plays in the West End of London. I did theater, television, and film, and I even did standup comedy. I only did that a few times because I think you have to be especially blessed and funny to do that.
So at least in Europe you get a healthy mix of people mentioning other roles?
It's been a very busy career, but I'm slowing down more now. I need a little bit more time with the grandchildren. But I've done a lot of work over the years and you have to have a little bit of luck to get this part and that part. I was in continuous work, and then Boba Fett came along.
In Elstree 1976 there's some animosity about David Prowse saying he is Darth Vader as opposed to James Earl Jones. Did you feel the same way about the stuntmen who played Fett possibly claiming the character, or when you learned about the backstory of Boba Fett's story in the prequels?
No, you have to be comfortable with that. Things get changed a lot.
So you're looking forward to the rumored upcoming standalone Boba Fett movie from Disney?
You hear that they're going to do this standalone movie, and as the actor I would love to see what they do with Boba Fett. The thing is that he's been such a fun character. They must carry on with it. There must be more there because people are waiting for more. He deserves his own little bit.
What would you like to see in a Boba Fett standalone film?
I'd like to keep him silent. He's silent and deadly. That'd be great. You don't want him speaking too much because he's dangerous, but he's also fair.
So you envision it as maybe a Clint Eastwood "Man With No Name" kind of movie?
Yes something like that. If I was to come to you as Boba Fett, I'd say, "I'm going to kill you." He tells you, and you know. I mean, Boba Fett answers Darth Vader back and gets away with it! He's on his own, and he wouldn't have much family life. That's what a Boba Fett movie would be.
Is that how you approached the performance when you played him in The Empire Strikes Back and Return of the Jedi, as a soft spoken but fair kind of cowboy character?
That's how I loved to play certain scenes — just walking and being quite creepy. He's always hanging around, and that's his strength.
You mentioned wanting to start winding down, but would you want to have any input in the potential Boba Fett standalone movies?
Of course I would! I still do get invited to conventions all over the place, and we have great fun meeting new people, but I'm sort of quieting down a little bit now. But when you're out of one job, you've got to think about what's going to happen next.
Do you ever plan to stop going to conventions?
Conventions give you time to chat with people and you can even sometimes say, "Hope to see you next year!" You get invited everywhere — South America, Hong Kong — and you want to get to every one, which would be nice, but it's impossible. It's just an interesting part of this whole saga.
This interview was edited for brevity and clarity.