Boba Fett-Inspired Armor and Weaponry Debuts at Las Vegas Trade Show 
This will put whatever you've seen at Comic Con to shame.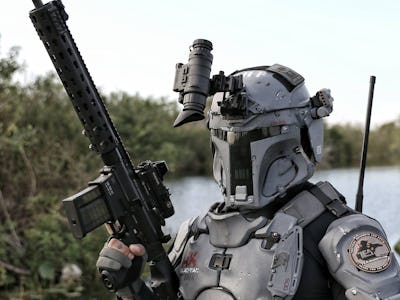 AR500
From James Bond to Marvel to Star Wars, we know that spies and superheroes aren't defined by their weaponry, but some lightweight armor accompanied by an aesthetically pleasing rifle doesn't exactly hurt their image.
Earlier today, AR500 Armor showcased their latest Marvel and Star Wars inspired GalacTac project at Shot Show, the shooting, hunting, and outdoor tradeshow in Las Vegas. The experts in ballistic armor received a flurry of attention for a social media post that featured a replication of famed Star Wars bounty Boba Fett's armor.
Naturally, Reddit is at the frontline of hilarity.
The project, which is headed by engineer and president of AR500, George Huang, is the result of a recent collaboration with other respected names in the industry like, TEA Headsets, SureFire, LLC and Team Wendy.
In addition to what they've accomplished with Star Wars, the prototypes also feature designs similar to the gear seen in 300, Captain America, and Iron Man.
Whether or not these pieces will be for sale is yet to be determined; however, the massive response the project has already generated gives added incentive to keep up the interesting work.