The Most Sadist Indie Game Ever Imagined
Why are indie games suddenly trying to hurt my feelings?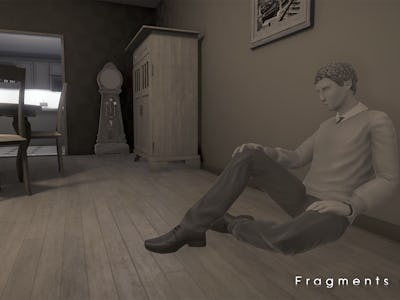 The new indie game Fragments of Him releases today on Steam, featuring a story about loss, pain, and moving past grief. Players are beginning to ask why video games seem to be trying to hurt our feelings all of a sudden. Are we just thirsting for new ways to feel, or is gaming trying to teach us something about ourselves?
Maybe you've always experienced loss and pain through video games. Perhaps there was a particular Final Fantasy character death that stuck with you, or the permadeath of an XCOM squadmate that you'd named after your best friend cut you deep. But then again, maybe video games haven't been hurting you until recently, via walking simulators like Gone Home or Firewatch. There is a clear indie bent toward emotional storytelling right now, because it often forces the viewer to adopt a different perspective on life. For instance, I hadn't thought about the world through the eyes of a teenage lesbian that much before Gone Home, but the game was that good.
The story in Fragments of Him is told through the perspective of three people close to a man who has died, and through the perspective of the man himself, who was unaware of the fateful accident until it strikes. It deals with death and loss, but it also grapples with moving through a world where sudden memories of a dead person can come flooding back. You might see him in a place where he once stood, interrupting your life and taking you back to a painful place. Essentially, this is a PTSD simulator for those who have not experienced PTSD.
Sure, there is also a game and a story here, but Fragments of Him seems designed exactly for the kind of person who scoffs when they hear others discussing trigger warnings. Sure, there are ridiculous extensions of that practice, but if you have never been directly affected by a lingering trauma, you're in no position to judge. And subtly, that is what this game is trying to insert into your life experience — a new perspective. Fragments of Him simulates a painful, eye-opening view about how we view the world through emotions.
My most recent grapple with a game that completely wrecked me was The Novelist. It's a small indie game where you play a ghost (awesome) who moves through a family's home (still awesome) watching them slowly destroy each other emotionally (uh oh). It rests on the narrative about a father who wants to write a book — but all of the choices that he makes in spending time on that book instead of on the people who love him, quickly wrecks everyone's lives.
The ghost perspective on the borderline harassment of selfish pursuits made a mess of me. Sure, Alan Wake spends too much time on a book and it hurts those close to him, but that's all about evil magic and insanity. Sometimes it takes a small quiet hour to truly force a player to reflect on his limitations, and to invite him to grow, even if that comes with growing pains.
For a short hands-on experience with Fragments of Him, check out Polygon's video below. The game will be available on Xbox One and PS4 later this year.