Why Europe's ExoMars Mission Was Delayed to 2020
And it means we might see something of a rover space race creep up on the red planet.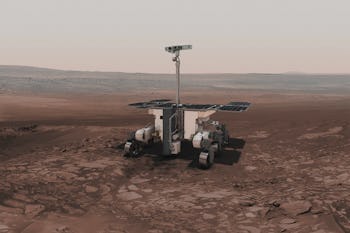 ESA
Russia's space agency Roscosmos and the European Space Agency just announced they will postpone the launch of the rover portion of the highly anticipated ExoMars mission from 2018 to 2020. Simply put, the agencies don't believe they will be able to prep everything in time for 2018, and would prefer to hold off by another two years when Earth and Mars are more closely aligned.
"Russian and European experts made their best efforts to meet the 2018 launch schedule for the mission," ESA said in a statement released Monday. After reports from the team heading up ExoMars expressed concerns with the mission progress, ESA and Roscosmos "jointly decided to move the launch to the next available Mars launch window in July 2020, and tasked their project teams to develop, in cooperation with the industrial contractors, a new baseline schedule aiming toward a 2020 launch."
This is tough news for both agencies to swallow. There is a lot of hype surrounding the ExoMars mission due to its goal to discover whether Mars once was or currently is home to extraterrestrial life.
ExoMars is actually a two-part mission. The first part consisted of the launch of the Trace Gas Orbiter and the Schiaparelli lander last month aboard a Russian Proton rocket. They will arrive at the red planet sometime this October. The orbiter will deliver the lander to the surface and then stay in orbit and start mapping the planet for sources of methane and other gases to detect signs of biological activity. Meanwhile, Schiaparelli will use its short lifespan to study the Martian environment and collect data about surface winds, temperatures, radiation, and other aspects.
The second part of the mission is where the real fun happens. That's where we send a Russian-led-surface platform to Mars and land a ESA-led rover on top of it. Both objects work to collect various types of geological and meteorological data, as well as collect and analyze samples for exobiological activity.
However, the delay inadvertently sets up the Martian landscape as a type of rover-led competition between ESA/Roscosmos, and NASA.
See, NASA has its own mission it's prepping to launch in four years — the Mars 2020 rover. Among many different tasks, that rover will assess whether Mars was habitable to life in the past, and collect data relevant to understanding the astrobiology of other worlds.
In other words, two teams will be racing one another to find life on Mars first.
All three space agencies will almost certainly downplay any notion of a red planet competition, but it's not hard to see a healthy contest actually growing out of these missions. NASA has pretty much jumped out ahead as the front-runner for Mars exploration. Meanwhile, the ESA and Russia have been relegated to promoting plans to increase lunar exploration and jumpstart the process of colonizing the moon for human habitation.
And then there's SpaceX, Elon Musk's space exploration company that announced last week that it would send its Red Dragon spacecraft to Mars as early as 2018. Musk may beat them all.
2020 is going to be a fun year for space!