Tesla Demos "Bioweapon Defense Mode" on the Streets of Beijing in New Video
Tesla's new air-filtration system has set its sights on the Chinese market.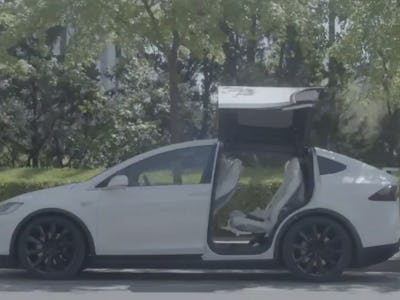 Tesla
Following earlier quotes from Elon Musk and a new statement from the car company itself, Tesla's new air-filtration system called the "Bioweapon Defense Mode" has been put on display in an all-new video released by the company on Monday night.
Created with a focus on the dangerously unhealthy air pollution in Chinese cities, Tesla's Bioweapon Defense Mode passed tests this week to astonishing results, purifying heavily polluted air inside of a Model X (the first model that will boast this particular addition) in just two minutes.
The video gives us a closer look at how the system tracks air conditions from within the vehicle, as well as a quick look at the user interface.
As he gave credit to Google founder Larry Page for the system's original inspiration, Musk explained that the system's filtering "particulates from air makes a significant & measurable [difference] to health."
With Bioweapon Defense Mode, Tesla aims to add precious years to the lives of Chinese citizens in a country where average annual PM2.5 levels (which are the most dangerous form of pollution) can reach up to 56 µg/m3 in highly populated cities like Beijing.
Detailed in a statement from Tesla on Monday, Bioweapon Defense Mode is a HEPA filtration system "capable of stripping the outside air of pollen, bacteria, and pollution before they enter the cabin and systematically scrubbing the air inside the cabin to eliminate any trace of these particles."
Tesla claims that it was also inspired by the air filtration systems used in hospitals and the space industry. The Model X and Bioweapon Defense Mode first debuted back in September, when Elon Musk described its inception as a way to prepare for the worst.
"We are trying to be a leader in apocalyptic defense scenarios," he joked as he introduced the car's falcon-winged doors and explained how its air filtration system was about to change the world.