'Game of Thrones' Soccer Tifo Team Brilliantly Trolls Opponents
It's still winter for the Kansas City Cauldron.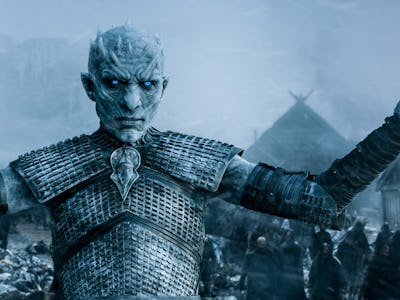 via HBO
This past week, Game of Thrones answered several of the questions that have left fans hanging for nearly a year. At the same time, the episode sparked several more controversies, with a particular grisly scene at the hands of Ramsay Snow. Supporters of one soccer club have seen fit to remind us of another Season 5 cliff-hanger: The White Walkers.
Though the supporters of Major League Soccer's Sporting Kansas City may have hail from the Midwest, they certainly made their icy mark with a specialized "tifo" before the match. Before Sunday's game at Children's Mercy Park, several KC Cauldron members known as "Teefer Team Six" displayed their tifo — which commonly stands for any major choreographed display of support for a sports team (in this case, a massive, growing, moving banner with an appropriate backing track and blue smoke) — as the entire club joined in with a coordinated cheer.
With a gigantic banner that read "Welcome to Blue Hell," the tifo loomed over the field in a show of pop culture knowledge and playful bravado:
This kind of dedication isn't uncommon for soccer clubs, but while the the rival South Stand SC made an attempt at retaliation, it didn't exactly live up to what Kansas had to offer.
It took several members of the KC Cauldron a total of 325 hours to build the massive banner in the likeness of the Night's King, and at its full build, the design connected to the roof of the stadium for maximum height. Dan Temple, the event's mastermind, explained the nerves he felt as the display went up at the game.
"There were so many moving parts," Temple told Sporting KC. "It took all of us to make it happen. There were several people pulling ropes. So I was really nervous, and when it worked I was actually jumping up and down because I was so excited. It was a massive group effort with many moving parts and lots of volunteers."