'Fear the Walking Dead' Reveals Victor Strand's Origin in 'Blood on the Street'
Alicia's radio boyfriend isn't who she thought he was in "Blood in the Streets."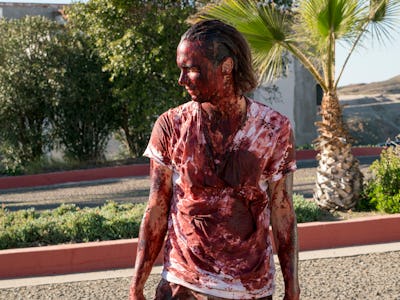 AMC
The fourth episode of AMC's Fear the Walking Dead, titled "Blood in the Streets," avoided the missteps — plodding storylines, for one — of the previous installments in the summertime zombie series. It used the 40-ish minute run time wisely, exploring the mysterious Victor Strand's (Colman Domingo) surprising origins. It also featured Jack (Daniel Zovatto) and his pirate crew taking the Abigail yacht hostage — it turns out his flirting with Alicia (Alycia Debnam-Carey) was at least partially a con to take over the luxury ship.
Jack isn't really a bad guy. Really. He was just a loner picked up by Connor (Mark Kelly), a pirate like Negan who is considerably less crazy than Jeffrey Dean Morgan's slugger. His feelings for Alicia seem real, at least to some degree, which Alicia is wisely using (or exploiting?) to protect her family.
More important than summer cruise crushes was the reveal of Strand, whose pickpocket beginnings lead him to work — and love — a fashionable man named Thomas Abigail (Dougray Scott). The namesake of the boat, Abigail and partner Luis (Arturo Del Puerto) recruited Strand as a business partner shortly after Hurricane Katrina. As the apocalypse began to unfold, they make an absurdly complex and ambiguous plan to reunite. Nick (Frank Dillane) played secret agent for Strand, infiltrating walker-filled land to get Luis, where they'll meet in Mexico. It's a complex plan that makes sense the less you think about it, but it's a hell of a way to take back the Abigail.
Strand's origin story, though not particularly exciting, is fascinating. The guy is a walking Esquire cover. He recalls Melisandre's reveal as an old witch last week on Game of Thrones: Is it exploitative to use such attributes — Melisandre's body, Strand's sexual preference — as a TOTAL SURPRISE, or is it a clever subversion of viewer expectations? Fear the Walking Dead doesn't dwell too much on Strand and Thomas. It happens, and then fuels Strand's plot motivations. The zombie genre since George Romero has always been progressive, but even when the culture at large is more accepting than the one that made Night of the Living Dead there's still growth.
There is yet more to do in Fear the Walking Dead, in terms of the immediate plot and keeping engaged viewers, who are being enticed by dragons, thrones, and tech startups on rival HBO. After seven months of zombies in The Walking Dead, it's a lot to ask to keep viewers around for the whole summer. Thankfully, "Blood in the Streets" is one hell of a way to do it. When there's blood on the streets, buy land.