Your Guide To Every Single Punk Band Mentioned In Gory Thriller 'Green Room'
From Minor Threat to Slayer, thriller 'Green Room' is chock full of hardcore punk and metal band references. 
by Christine Jun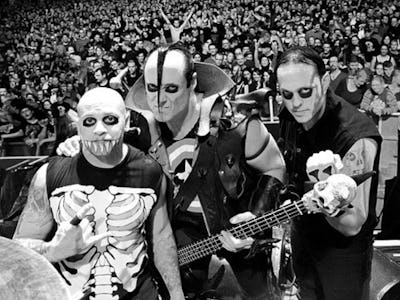 Aside from a tautly scripted thriller often shot in the style of a shooter computer game, Green Room is also a music movie about the struggling punk band protagonists of The Ain't Rights: singer Tiger (Callum Turner), bassist Pat (Anton Yelchin), guitarist Sam (Alia Shawkat) and drummer Reece (Joe Cole). Throughout the film, when they're not too busy trying to survive a Nazi bloodbath, The Ain't Rights still somehow manage to drop achingly hip references to other rock bands, especially of the hardcore and metal variety.
As occasionally annoying and pretentious as these rock hipsters may appear, there's no denying that they've got great taste in music. Here are all the bands that The Ain't Rights reference in Green Room:
Iggy Pop
After a blue-mohawked music journalist invites The Ain't Rights back to his beer can-littered apartment, right away, the group starts talking tunes. First to be referenced is the godfather of punk, Iggy Pop, who began stirring shit up in the late '60s. Not only did every single punk band of the past and present borrow a thing or two from Pop and his late-'60s/early-'70s band, the Stooges, but Iggy has also managed to outlast practically every punk movement to come.
It was around this time that the group shortened its name to the Stooges, and Osterberg changed his own stage name to Iggy Pop. Known for his death-defying acts onstage, a possessed Pop worked himself into such a frenzy that he would be bleeding by the end of the performance.
Minor Threat
The Ain't Rights mention Minor Threat as an influence in Green Room, and Pat even sports a Minor Threat T-shirt for the duration of the film. Indubitably, Minor Threat was the definitive Washington, D.C. hardcore punk band, setting the style for the straight-edge punk movement of the early '80s.
Led by vocalist Ian MacKaye, the group astoundingly rejected drugs and alcohol, espoused anti-establishment politics, and led a call for self-awareness. Every song was lethally fast and sharp, venting sheer rage and often clocking in at just around a minute. Following Minor Threat's disbandment, MacKaye formed Fugazi (see note below), which became one of the more popular American indie rock bands of the late '80s and '90s.
Black Sabbath
Here's another formative influence cited by The Ain't Rights. The embodiment of heavy metal, with the overpowering volume, sludgy attack, and mystical lyrics that would define the genre, Black Sabbath also helped launch the career of controversial figure Ozzy Osbourne.
The band delivered a punitive blast of doom-laden heavy blues-rock via bass player Geezer Butler's dystopian words — which leaned heavily on the occult — and guitarist Tony Iommi's seismic riffing. Combine that with Bill Ward's economical yet formidable drumwork and Osbourne's primal tenor, and the effect was super powerful, to say the least.
Misfits
When interviewed, this is the first "desert island band" that The Ain't Rights mention. This popular band combined the aggressive charge of punk rock with often shockingly campy fun, and the divided response continues amongst their cult following. The Misfits weren't the best musicians, although Glenn Danzig possessed one of the most distinctive and tuneful bellows in hardcore punk.
Rather, it was Danzig's penchant for catchy melodies delivered at warp speed, and his obsession with grade-B horror films and splatter imagery that helped the Misfits build a rabid posthumous following. At the end of Green Room, in imitation (and emulation) of Danzig, Pat paints his face black and white.
Dare to Defy
Another "desert island band" reference. This Philadelphia-area hardcore band is known as one of the earlier East Coast bands to combine hardcore and metal, and was active from the late 1980s until the late 1990s.
Poison Idea
Referenced as a "desert island band" by The Ain't Rights, these nihilistic hardcore heavyweights spent the 1980s and '90s pursuing a path of harsh, speedy rock. Poison Idea's first EP Pick Your King manages to cram 13 songs into a 16-minute time frame. The Record Collectors Are Pretentious Assholes EP soon followed, fine-tuning the band's blistering sound and fatalistic worldview.
Thanks to their notoriously insatiable diet of drugs, alcohol, and junk food, the members of Poison Idea all ballooned past the 300-pound mark by the time of their 1986 full-length Kings of Punk. Roberts, who then tipped the scales at an impressive 450 pounds, rechristened himself "Pig Champion" in honor of the occasion.
The Distillers
This hardcore punk outfit — whose bar room garage rock roots were readily apparent — is blurted out as a source of inspiration by The Ain't Rights during their underground interview. Signed to Epitaph, the band issued its self-titled debut in April 2000. Sing Sing Death House appeared the same year, but was re-released in early 2002 thanks to the sudden popularity of "Seneca Falls."
Steely Dan
Yet another Green Room "desert island band" reference, but well-merited. This sophisticated, eclectic rock group defied all rock & roll conventions, building itself around cryptic lyrics, complex harmonies and time signatures, and a devotion to the studio. Becker and Fagen never truly enjoyed rock, preferring jazz, traditional pop, blues, and R&B.
With producer Gary Katz, Becker and Fagen gradually changed Steely Dan from a performing band to a studio project, hiring professional musicians to record their compositions. Though the band didn't perform live after 1974, Steely Dan's popularity continued to grow throughout the decade, as their albums became critical favorites and their singles became staples of AOR and pop radio stations.
Simon & Garfunkel
Ironically, after the bodycount in Green Room starts to rise and they've started to slash and shoot their way past their Nazi captors, Ain't Right band members decide to revise their "desert island" band list. In a moment of total honesty, Sam blurts out "Simon and Garfunkel."
Although they didn't get on so well, the legendary folk-rock duo performed songs that spoke like none other to the generation of the 1960s and '70s, including classics like "Bridge Over Troubled Water," "The Sound of Silence," as well as The Graduate soundtrack hits "Scarborough Fair" and "Mrs. Robinson."
Slayer
Another "desert island" band addition, after The Ain't Rights are caught in a Nazi bloodbath." This early thrash metal band was one of the most distinctive and influential of the 1980s. Slayer arguably displayed the most consistent vitality and the least compromise, obsessively portraying the dark side with graphic lyrics, full-throttle velocity and chaotic guitar solos. Of course, Slayer stirred up some controversy over the years, with rumors flying about Satanism and Nazism, that only seemed to add to their mystique and appeal. After Slayer put out the undisputed classic album Reign in Blood, their impact on the growing death metal movement was gradually and respectfully acknowledged.
The Dead Kennedys
After the desperately broke Ain't Rights manage to secure a gig in a Nazi roadhouse in rural Oregon, they decide to anatgonize the skinhead crowd by playing a cover of Dead Kennedys' Nazi Punks Fuck Off, and almost incite a mob riot. In the film, band member Sam also wears a Dead Kennedys T-shirt in clear homage to one of the first successful U.S. punk bands, who merged revolutionary politics with hardcore punk music. Inspired by revolutionary British punk bands like the Sex Pistols more than the artier tendencies of New York punk rockers, the Kennedys become notorious enough by the mid-80s to be prosecuted for obscenity (concerning a poster inserted into their 1985 Frankenchrist album). Unfortunately, the ensuing court battle sped the band toward a breakup, but the band still managed to leave behind a lasting legacy.
Note: The Dillingers, Fugazi, and Warbringer are all visually referenced in
Green Room via van stickers and band posters. The film's original soundtrack also includes head-drilling punk and metal bands like Hochstedder and Syphilitic Lust.