A Brief History of Japanese Metal Idol Band Babymetal
Get familiar with Babymetal's brand of pop-infused metal before their second album drops next month.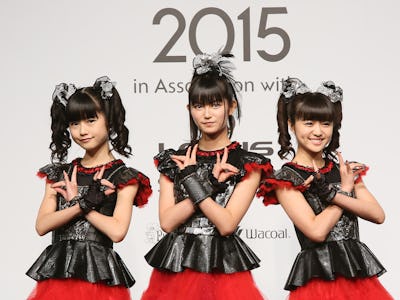 Getty Images/Ken Ishii
In the bright and bustling world of Japanese pop culture, idol bands are major. They are music groups consisting of idols — or young stars manufactured by corporations for the sole purpose of marketing them to teens and children as role models. These idols project a happy and marketable image, easily digestible for the masses. That means they're often more lauded for their cuteness or public image than for their musical talents. Idol bands exemplify a pop culture phenomenon exclusively driven by fans, rather than the artists themselves. Fan bases sensationalize individual idols and idol groups to the point of ignoring any real or raw talent the idols may have. It's all for the fans.
While some idols may be venerable TV hosts, panelists, or models, the most tried and true way to share these campy personas is to group them into J-pop bands — which is how well-known idol groups like Momoira Clover Z and SKE48 came to be. These supergroups aim for spectacle over skill, since the driving goal behind these carefully curated groups is to market something colorful and entertaining to the masses. So the superficiality of idol culture its most divisive and defining quality. Idols exist to give youth positive role models, but the sheer number of idols and idol groups can make it hard to distinguish between so many groups operating on identical schemas. There is, however, one idol group that puts a dark and gritty spin on the exhausted genre by crossing pop soundscapes with metal, for a result that is equal parts entertaining and bewildering. Babymetal is Japan's bona fide metal idol band, and they're releasing their second album next month.
The thrust of the group's mission is all in the name —"baby" is the cutesy, idol-oriented part of their mission, while "metal" is the prickly thorn on this well-disguised rose. Instead of uplifting, cheery pop songs, the three members of Babymetal are backed by a ferocious, unsparing metal band. The group consists of 18-year-old Suzuka Nakamoto, aka "Su-metal," 16-year-old Yui Mizuno aka Yuimetal, and 16-year-old Moa Kikuchi, aka Moametal. They're genial on the surface but will bite your head off and swallow it whole once the guitars and drums begin to pummel.
The group was formed in 2010 as a subgroup of Sakura Gakuin, under the vision of producer and longtime metal fan Key "Kobametal" Kobayashi. In an interview with magazine Metal Hammer in 2014, Kobayashi explains the impetus for his fusion of the ever-popular idol genre with the less-accessible timbre of metal music. "Metal is only getting older and older and the scene isn't getting bigger anymore. I started thinking that I wanted to come up with something new, something that no one has ever done before, and that's where Babymetal came from. The idea really just fell from the heavens," Kobayashi said.
As Babymetal has gained traction around the world, particularly in Europe, many metal purists have been quick to condemn the prefab group: For their gimmicky, exploitative approach to a celebrated genre. But some prominent metal musicians have advocated for Babymetal, even in the face of widespread criticism; the band takes a fun approach to a genre that's often regarded as, well, not fun. Jeff Walker, bassist and vocalist of London death metal group Carcass, sung Babymetal's praise after seeing them perform in 2014 at Sonisphere. "It puts a smile on people's faces. That's what music's about, isn't it?! Enjoying it and not being so serious," Walker said after he described his highlight of the festival—posing for a picture with Babymetal.
From 2010 to 2012, Babymetal performed with female idol group Sakura Gakuin, releasing their first songs "Doki Doki Morning" and "Babymetal x Kiba of Akiba" as promotion for the umbrella group. When Suzuka Nakamoto graduated junior high school in 2013, she was forced to leave Sakura Gakuin: the group only hosts members up to the junior high age. Babymetal's management decided to keep the project alive after Nakamoto's forced exit from Sakura Gakuin, and in early 2013 the group released their first official indie single "Ijime, Dame, Zettai". Later that year Babymetal put out the "Megitsune" single and their live video performance "Live: Legend I, D, Z Apocalypse," which showcased the group's surreal fusion of saccharine J-pop vocals with aggressive heavy metal.
In 2013 they became the youngest group to ever perform at Loud Park, a massive annual heavy metal festival in Chiba City, Japan. All of this exposure set the stage for Babymetal's 2014 official self-titled debut, which simultaneously perked the ears of curious music critics — but also incensed metal devotees about the jovial take on their favorite genre. Later in 2014, Babymetal toured Europe, made their live U.S. debut, and played on a bill with Slayer and Metallica at Heavy Montreal. The band continued to tour all throughout 2015, and in January 2016 announced the name of their next album Metal Resistance, out April 1.
Although the three members of Babymetal have all admitted they didn't know what metal was before they started the group, there's something commendable about the amount of fun they've brought — to a genre that is notoriously perceived as inaccessible, heavy, and dark. Babymetal is driven by corporate interest and the inescapable hysteria of pop culture. But these three members have played a huge role in helming the enterprise. In so doing, they avoid the possibility of being overshadowed or swallowed by the sensationalism of their genre. They may have been manufactured by a corporate Japanese model, but the energy and excitement they deliver — through their kitschy choreography, goth school-girl outfits, and unprecedented fusion of pop and metal — is worth some loud touting.
Sure, Babymetal isn't true metal, but their goal isn't to push the metal genre forward; they want to open it up.