5 Clues on Google's Future in 2016 and Beyond
Sundar Pichai delivered the founder's letter as the company's new CEO.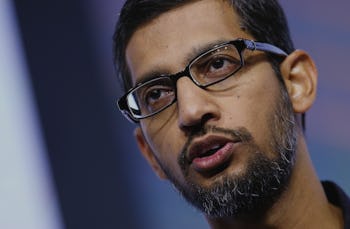 Justin Sullivan / Getty Images
The annual Google "Founder's Letter" offers the public a personal view of the company started by Larry Page and and Sergey Brin back in 1998. If you use Google, which most of us do, it typically offers something interesting to chew on for the coming year. This year, the letter was delivered with a twist.
It wasn't Page or Brin addressing us in this year's letter that was posted today. Instead it was Google CEO Sundar Pichai who took the reins, as Google has spun off from Alphabet — Page and Brin's new company that oversees lots of companies, of which Google is just one. (Think: "G" is for Google.")
As Page points out in a preface, the majority of the company's "big bets" are still under the Google umbrella, from VR headsets to artificial intelligence, making Pichai the appropriate person to write this year's update.
Below are the five most interesting points:
5. Mobile Is No Longer the Future, It's the Present
Pichai made this a major point of the company's earnings call last week and he did so again in the letter: "The majority of our searches come from mobile, and an increasing number of them via voice."
If the earnings call is about the bottom line, the founder's letter is all about the emotional appeal. Pichai discussed how Google is bringing more context to search results by factoring in location more, weaving in flight times, and servicing the different needs of students and parents.
4. Artificial Intelligence as an Intelligent Assistant
Google hasn't done much with its most direct A.I. platform Google Now, even as competitors from Apple's Siri and Amazon's Echo grow. But, Pichai argues there's a lot of A.I. and machine learning in Google's services as well that go largely unseen: Gmail filtering, Google Translate (which marks its tenth anniversary today), and searching for photos in the redesigned Google Photos app.
"Looking to the future, the next big step will be for the very concept of the 'device' to fade away. Over time, the computer itself — whatever its form factor — will be an intelligent assistant helping you through your day," Pichai wrote. We will move from mobile first to an A.I. first world.
3. YouTube Is Still King of Video
More than a billion people a month visit YouTube. The company's various breakout apps have allowed the service to expand on mobile with more than half of those 1 billion viewers watching on mobile devices.
YouTube now offers an app for kids' programing, a music app that curates the site's best live and recorded music content, and the paid subscription service YouTube Red, which gives access to the Spotify-like Google Play Music as well as original programming from PewDiePie and Lilly Singh.
2. Google Cardboard Widely Adopted
Fancier virtual reality headsets such as those from Facebook's Oculus Rift and HTC's Vive are more technically impressive, but neither can say they've shipped 5 million units like Google has. Google Cardboard is being used by regular consumers and for educational purposes in schools, giving millions of people their first taste of the power of VR.
1. Delivering Google to the World
There are 6 billion people in the world and Google wants to deliver its free services to all of them (and serve them ads while they do it). This year the company ensured cheap $50 smartphones were available, as well as $100 Chromebook laptops, to impoverished countries. Google also integrated offline maps so users could get turn-by-turn navigation without an internet connection, and debuted streamlined Google Searches for users on a slower network.