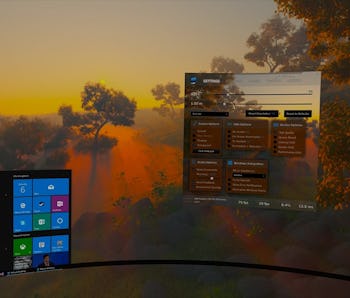 Gaming
Virtual Desktop, a New Oculus Rift App, Will Make You Ditch Your Monitor
Immersive PC games, virtual home theaters, and browsing the web in space.
YouTube
Starting today, you can navigate the internet from the outer realms of the galaxy while sitting on the john. Or you can enjoy the comfort and ambiance of a home theater in your decrepit living room.
Your computer screen and television, in other words, are now — for the most part — irrelevant.
On Monday, Oculus Rift began shipping its virtual reality headsets. Coincidental with the release — which was relatively low-key (aside from Oculus founder Palmer Luckey delivering the first headset in person) — comes the Virtual Desktop. Virtual Desktop sells for $15 on Steam today and will work with the Rift and the HTC Vive, which is scheduled for a May debut.
The Virtual Desktop is a bit more than what it sounds like. The interface itself is customizable: You're able to control the zoom, make the "screen" appear curved, and also render the "desktop" itself transparent, such that it blends in with the background. As for these environments: you can use one of several packaged with the application or instead build your own.
Within a VR headset equipped with Virtual Desktop, you can surf the internet — perhaps literally — play video games, and watch or stream movies. In effect, you can do anything you'd normally wish to do on your PC in virtual reality.
While these capabilities may not altogether wow you in text, the video accompanying the release is relatively impressive. Watch:
Odds are this interface won't last long, and will soon be usurped by more intuitive and futuristic user experiences. VR headsets are meant, in many ways, to replace computer interfaces. In part, Magic Leap and Leap Motion's products are so attractive due to their teased user experiences.
When you can open your palm to unveil a quasi-"start menu" instead of open up the too-familiar, by-now passé Start Menu, VR and AR get exciting. No less, this software will serve as a quality, rewarding gateway to the unfamiliar-but-more-enthralling experiences beginning to roll out.
Don't miss Luckey's delightful, endearing, awkward delivery to one Mr. Ross Martin: