Leap Motion's Orion Explodes the Virtual Reality Experience
"My best VR experience so far. Absolutely awe-inspiring, I was giggling with glee throughout."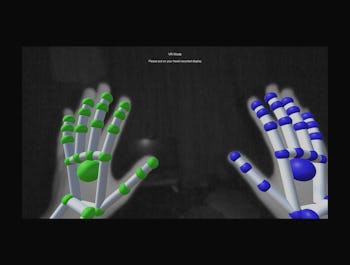 Leap Motion
Leap Motion is a company that, in short, enables you to manipulate virtual and augmented reality — and your computers — without touching anything. San Francisco-based Leap Motion on Wednesday released Orion, an update, "part hardware, part software," with capabilities that are literally and figuratively game-changing.
If you already have the Leap Motion controller, you can download Orion today.
Leap Motion was like Kinect, only better — and the sensor is, relative to the Kinect, miniscule. It's available now for your Mac or PC. Until Wednesday night, Leap Motion was just a pretty good option. (Tech-wizard named Matt Cook, who's using it to push education forward with virtual reality, is one user.)
Orion — over a year in the works — takes Leap Motion to the next level. Those lucky few with VR headsets are already calling it their "best VR experience so far." That user continued: "Absolutely awe-inspiring, I was giggling with glee throughout." Another simply stated: "AMAZING !!!!" The environmental and object manipulation are intuitive and highly-responsive, vast improvements to the merely decent original Leap Motion.
And these are just the early days: videos that are so unbelievable that viewers cannot help but turn into money-dispensing zombies. Much more is to come, as Leap Motion says: "We're only getting started."
Orion software represents a radical shift in how we do hand tracking. We've unlocked lower latency. Longer range. Better and faster hand recognition. Vastly improved robustness to cluttered backgrounds and ambient light.
In addition, Orion may soon become the norm not just for VR and AR headsets but within those headsets. "The Orion beta is just a first taste of what we have on the horizon, as we're working directly with OEMs [Original Equipment Manufacturers] to embed Orion hardware into VR headsets."
Enough words, though: the videos are the truly persuasive case studies. First, a general demonstration of Orion within a demo called Blocks:
And next, another demo: Geometric. This video illustrates just how incredible the hand-tracking is with Orion.
Watch:
Never before has the expression shut up and take my money felt so apt.