Uber's New Policy Charges Ridesharers Extra for Making Drivers Wait Curbside
It's not what users want.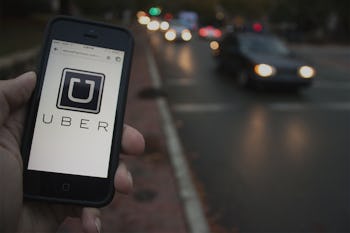 Bellingham Wins
Uber users accustomed to taking extra comfy strolls down to their curbside pickups may now find themselves paying extra. The ride-sharing app will begin charging users in select markets two minutes after their car arrives, down from the current wait period of five minutes. The service is also implementing a $5 to $10 cancellation fee for those who revoke their request after two minutes, also down from the current five-minute timeframe. The policies, though in a test phase, will take effect immediately in several of Uber's most important markets, including Phoenix, Dallas, New Jersey, and New York City.
"'Drivers' time is valuable, and while we expect riders to request a ride only once they're ready, we know that waiting for a rider at their pickup location can be frustrating," the company explains in a statement about the change.
The new policy would start the meter two minutes after the car arrives. So a user who starts the trip eight minutes after being notified that their Uber arrived would be on the hook for six of those minutes.
The policy change appears designed to address drivers' concerns at a time when they are mobilizing across the country for better representation in management decisions. Of course, Uber's bottom-line stands to benefit, as well, as higher prices and new fees mean more money for the company and drivers, alike. Drivers' rights may even serve as an effective masquerade for Uber to hike prices and add additional fees, as the worker-management relationship threatens to sour further.
Uber's domination of the ride-sharing market also leaves it a certain amount of room to raise new revenue. Uber currently provides over 35 million rides to users every month in the United States, while Lyft has yet to break the five-million-rides ceiling. Lyft, though, is sticking with the five-minute waiting and cancellation windows, offering it a potentially useful talking point in the battle for sharing prominence. On the other hand, if Uber can repair its relationship with its drivers, it could make it hard for Lyft to put cars on the road.
In a tense market, any shift could have unintended consequences. So it's no surprise Uber is taking steps to roll out the potentially unpopular charges and fees in select markets before taking it nationwide. But also, if anything were to really backfire, let's face it, it would go down in New York.